Shen Yun Symphony Orchestra: a groundbreaking concert celebrated for its adept fusion of Eastern and Western musical traditions. With an unwavering devotion to holding Chinese culture, the orchestra ably weaves ancient Chinese melodies with classical Western symphonic elements. This unique approach has not only earned them global recognition but has also significantly influenced the global music scene. Delve into this exciting journey of creativity; a musical adventure deftly blends the power of Chinese culture with the wide variety and richness of Western music.
The Shen Yun Symphony Orchestra is a unique musical group. Since debuting at Carnegie Hall in 2012, it has received international acclaim for its fascinating musical experience. They are known for fusing ancient Chinese instruments with a full Western orchestra. As a result, this innovative blend creates a fresh and ageless melody that appeals to everyone.
Their successful performances bridge the gap between Eastern and Western musical traditions. Additionally, they serve as proof of the universal appeal of great art, uniting people across borders and cultures through music.
The Connection to Shen Yun Performing Arts
The Role of Shen Yun Symphony Orchestra within the Organization
The Shen Yun Symphony Orchestra is integral to Shen Yun Performing Arts, founded in 2006 in New York. A group of creative, talented artists came together to maintain and promote China's rich artistic legacy through performing arts. They aimed to show the beauty and depth of China's ancient art forms to audiences around the globe.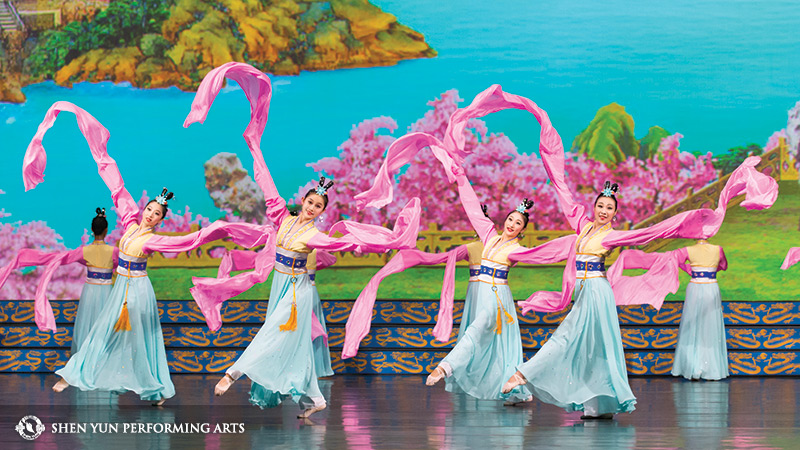 Within the organization, the Shen Yun Symphony Orchestra plays a crucial role. While Shen Yun Performing Arts excels in amazing dance performances, the symphony orchestra provides the ideal musical pairing. By fusing Eastern and Western music, the orchestra enhances the audience's listening experience and adds cultural authenticity to each performance.
A Shared Artistic Vision and Purpose
Both Shen Yun Performing Arts and the Shen Yun Symphony Orchestra share an artistic vision to revive traditional Chinese culture. In the past century, China's cultural heritage has faced significant challenges due to political turmoil, war, and cultural revolution. In response, Shen Yun blends the powerful visual storytelling of dance performances with the fascinating sounds of the symphony orchestra. By doing so, they aim to foster renewed appreciation and understanding of China's cultural heritage among audiences worldwide.
Through their magical blend of Eastern and Western musical traditions, they greatly remind us of art's transformative potential. It shows the ability of music to bridge gaps, unite people, and go beyond cultural borders. This unique fusion of musical styles ensures China's cultural heritage's timeless wisdom and beauty continue to inspire and delight generations.
The Unique Blend of Chinese and Western Music
The Incorporation of Ancient Chinese Instruments
Erhu: The erhu is a two-stringed Chinese instrument often called the "Chinese violin." With 4 thousand years of history, the erhu has a specifically emotive and soul-stirring sound. Its unique timbre adds a pining for the past touch to the orchestra's music, drawing audiences into ancient China's realm.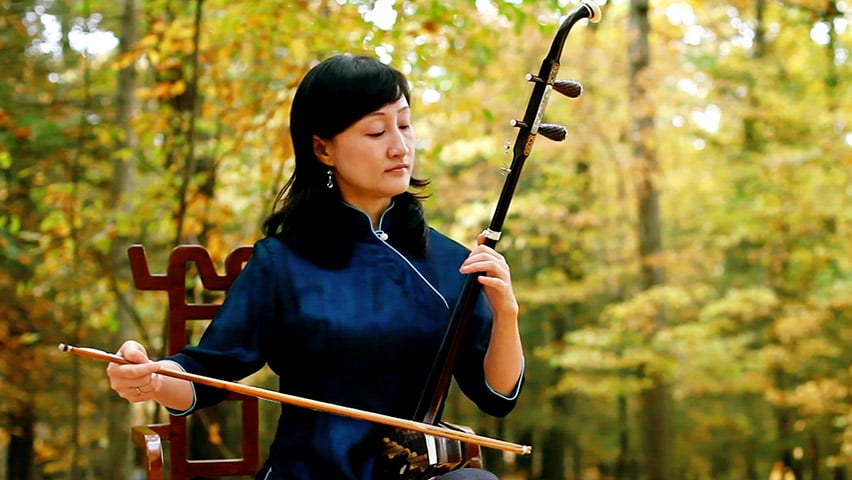 Pipa: The pipa is a four-stringed Chinese instrument that looks like a lute. Originating from the Han Dynasty, the pipa displays a vast tonal and emotional spectrum, containing serene tranquility and vibrant intensity. Moreover, its remarkable versatility serves as a catalyst, infusing the Shen Yun Symphony Orchestra's performances with an extra layer of richness and depth. As the musicians pluck the strings, the pipa weaves a captivating tapestry, evoking the full spectrum of human emotions.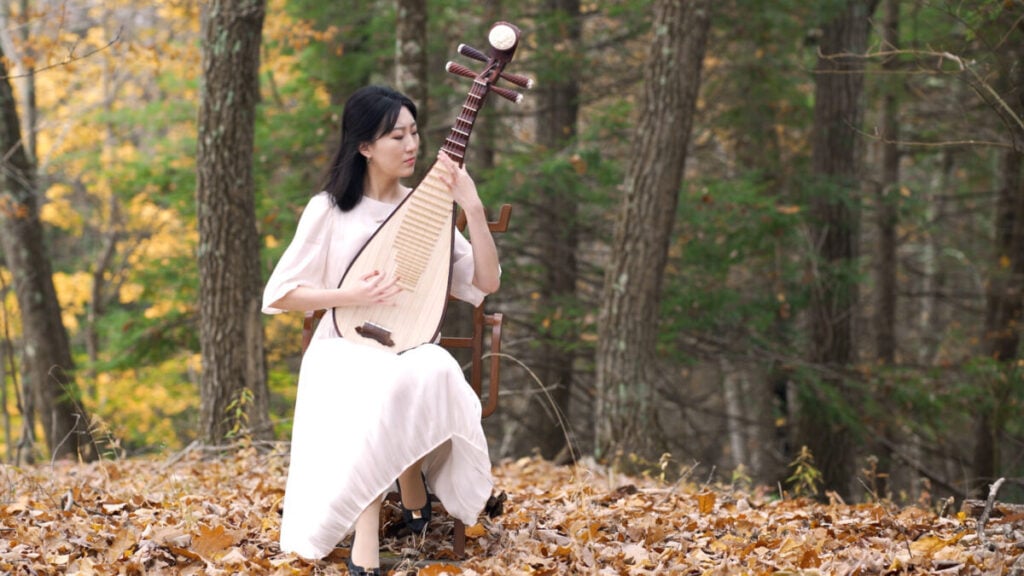 Suona: Also known as the "Chinese trumpet," the suona boasts a rich history that spans over a thousand years. One notable feature of the suona is its inherent instability, which injects a sense of thrill and surprise into its performances. This instability serves as a testament to the suona's versatility in faithfully reproducing animal sounds and even human speech. Whether mimicking bird calls or emulating opera singing and laughter, the suona adds a lively and playful dimension to the orchestra's piece.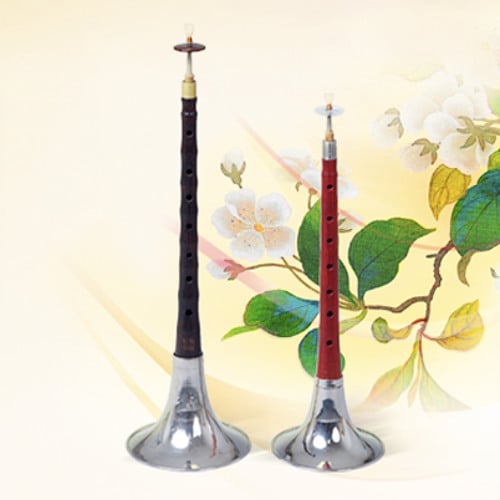 Dizi, guzheng, and diverse Chinese percussion instruments also contribute to the special sound of the Shen Yun Symphony Orchestra.
The Full Western Orchestra: Enhancing the Fusion
The Shen Yun Symphony Orchestra well uses a diverse range of Western instruments, crafting a vibrant and immersive soundscape:
Strings: Violin, viola, cello, and double bass form the spine of the orchestra. These instruments contribute to the lush, vibrant sound that provides the foundation for the ensemble's performances.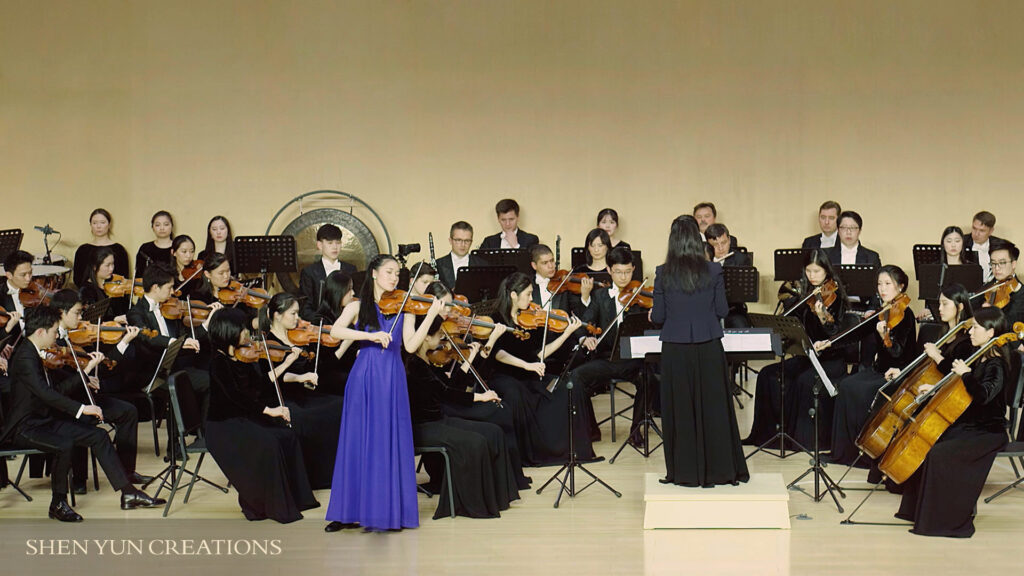 Woodwinds: Flute, oboe, clarinet, and bassoon add color and texture to the orchestra's overall sound. These instruments contribute to the melodic and harmonic aspects of the music, often providing complex counterpoints and emotive solos.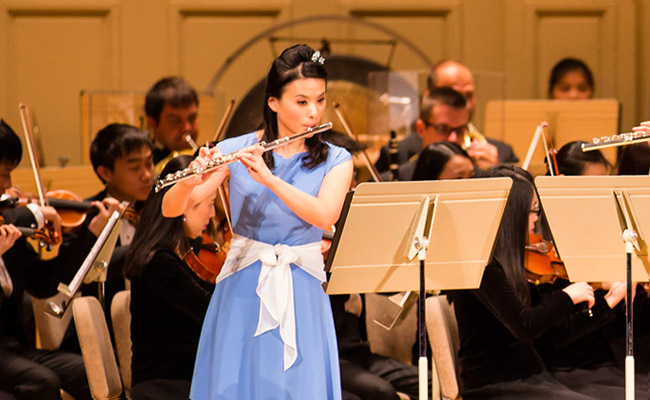 Brass: Trumpet, French horn, trombone, and tuba create powerful and dynamic accents in the music. These instruments lend a distinct energy to the orchestra's performances, helping to amplify emotional climaxes and emphasize important thematic elements.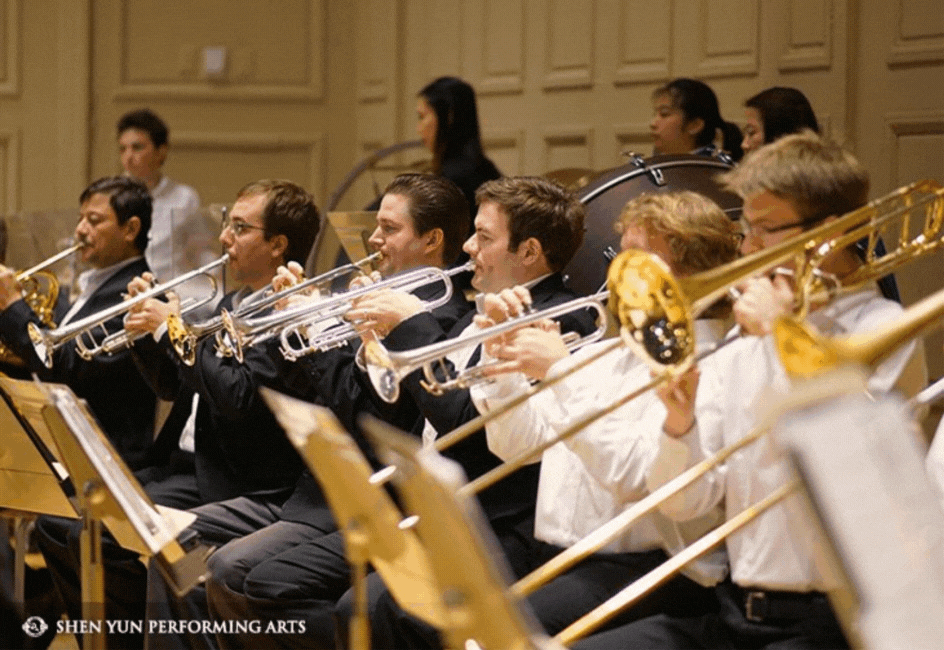 Percussion: Instruments such as timpani, cymbal, and tambourine set rhythmic patterns and support the orchestra's overall sound. The percussion section helps drive the music forward and adds depth and character to the performances.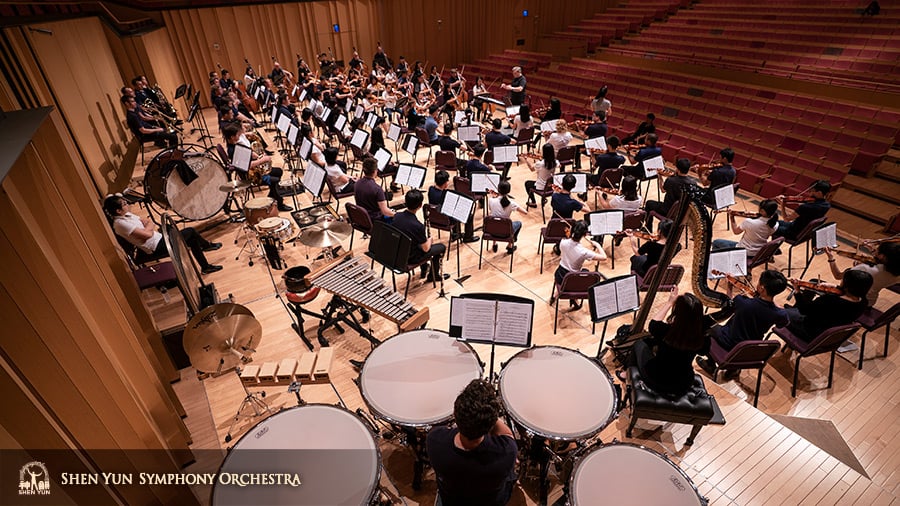 Keyboard: Piano and harp are occasionally incorporated into the orchestra to provide harmonic support and richness to the overall sound.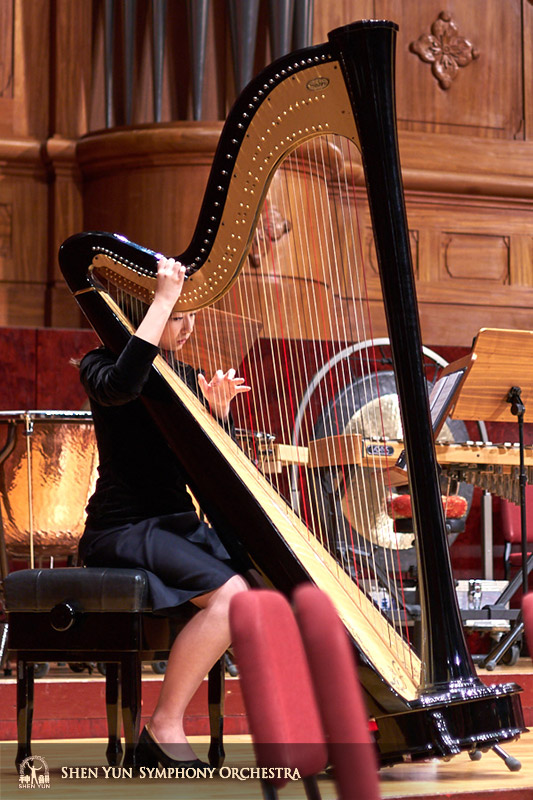 The Magic Behind Shen Yun Symphony Orchestra's Amazing Compositions
The deep connection to cultural heritage is a key element behind the success of the Shen Yun Symphony Orchestra's pieces. In an interview, Gao Yuan, one of the orchestra's composers, shares how he finds ideas in ancient Chinese legends, stories, and history. These elements infuse his music with a sense of timelessness and deep meaning.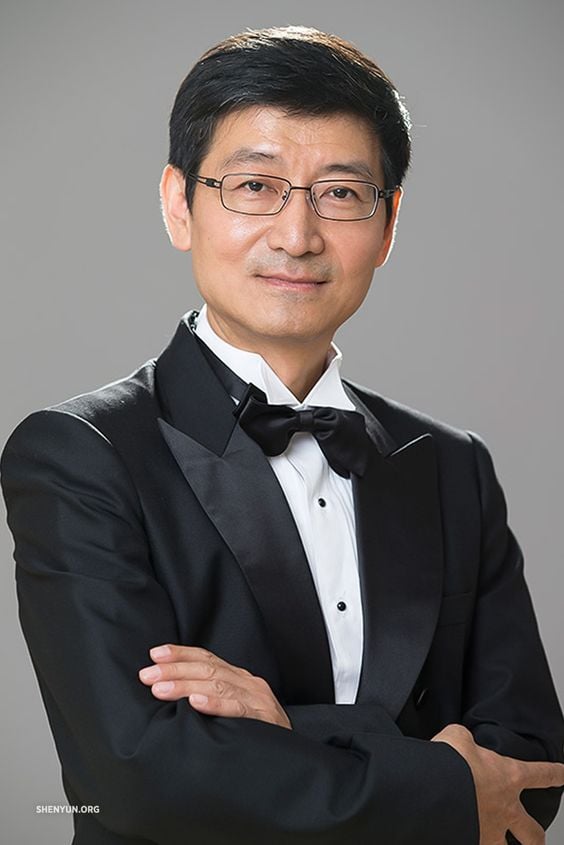 For example, in his piece "The Mystical Udumbara," Yuan uses the rare and auspicious Udumbara flower story. This piece conveys themes of hope, renewal, and miracles, showing the flower's symbolism in Buddhist and Chinese culture.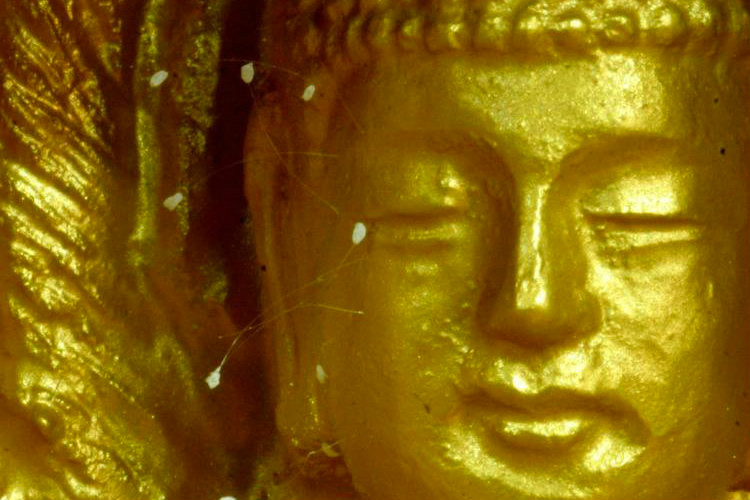 All orchestra's composers and musicians are well-versed in the historical and cultural contexts that have shaped the music they perform. This knowledge allows them to infuse their pieces with authentic cultural elements while also embracing new ideas and techniques. The result is a musical experience that not only respects tradition but is also boldly creative.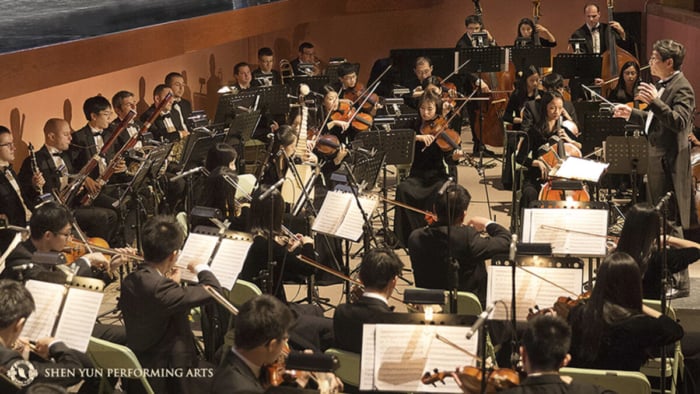 Another vital factor in successfully fusing Eastern and Western music is the careful attention paid to Chinese instruments' characteristics and inherent expressiveness. This can be seen in how Shen Yun composers carefully integrate the erhu and pipa's unique tones into their pieces. They blend these unique sounds with those of Western instruments, thereby creating a harmonious whole that erases cultural boundaries. For instance, the erhu, with its soulful and emotive sound, can take the spotlight as a lead melodic instrument. On the other hand, the pipa's bright and lively tone adds a unique texture to the overall orchestration.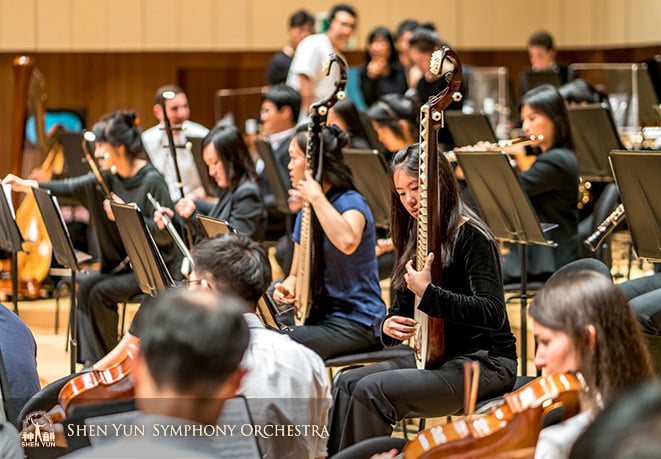 The resulting music is a testament to the composers' deep understanding of the nuances of both Eastern and Western instruments. They ably combine these elements, keeping traditional Chinese music's essence while seamlessly merging Western classical music techniques.
More than that, the orchestra's ability to produce such wonderful pieces stems from believing in music as a divine gift. Deeply rooted in traditional Chinese culture, this spiritual aspect of music has always been considered a profound expression of human emotions and divine wisdom. In essence, this rich heritage emphasizes the importance of music as a conduit for linking the earthly and the divine, weaving together the threads of emotion and enlightenment. So, a composer must respect the heavens, the earth, and humanity when creating music. The spirit of the music should be pure and beautiful. By upholding these values, the orchestra's composers soar to unparalleled heights, transcending mere entertainment and touching the hearts of audiences.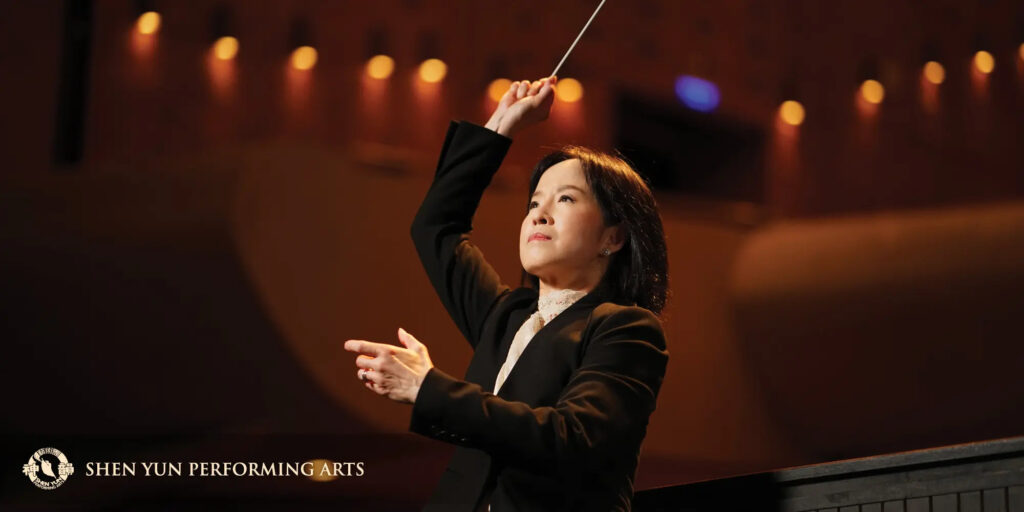 In addition to the meaningful cultural value and artistic brilliance, their music holds a deeper purpose – healing. Throughout history, music has been revered due to its ability to touch the soul and promote well-being. In ancient China, the words for music and medicine were homophones, thus emphasizing the belief that music had inherent healing power. Modern scientific research has also supported the therapeutic benefits of listening to classical music. Thus, through their beautiful and pure music, Shen Yun's pieces tap into this musical tradition as a healing force. By upholding the divine nature of music, their performances serve as a source of solace, peace, and renewal for all who have the chance to listen.
Present All of Shen Yun's Original Compositions
Each original piece is a testament to the creativity and skill of the composers, who ably blend Eastern and Western musical styles while keeping the essence of traditional Chinese music.
The Shen Yun Symphony Orchestra's original compositions span diverse styles, thus showing the depth and breadth of China's musical world. Some pieces draw from the majesty of the imperial court, while others evoke the rustic beauty of China's rural scenery. Still, others draw inspiration from China's dance and martial arts history, seizing their energy and elegant essence.
Taking a Musical Journey Back: Highlights from Last Season
The Shen Yun Symphony Orchestra's repertoire is as vast as it is diverse. It includes a rich array of original compositions, each resonating with the unique character and spirit of the orchestra. Certain pieces have become iconic, leaving a lasting mark on their performances. As we look back at the previous season, let's explore some of their standout compositions:
The Creation: is one of the notable original compositions by the Shen Yun Symphony Orchestra. This powerful symphony tells the story of the creation of the universe. It delves into themes of divine creation, human innocence, disconnect, and renewal. Through changing tones, textures, and meters, "The Creation" conveys a powerful story highlighting the importance of keeping our connection to the divine. Additionally, it showcases the transformative power of music in communicating complex, universal themes.
Ancient Melody: originally composed for solo erhu and piano, graced the stages worldwide during Shen Yun Performing Arts' 2018 tour. This particular arrangement, featuring three erhus and a full orchestra, adeptly captures the essence of ancient Chinese culture while showcasing the emotive prowess of this traditional instrument. As the piece unfolds, thematic variations are shown by the erhu soloists and the orchestra. The performance highlights the beauty of ancient Chinese music, transcending generations and cultural boundaries with its timeless beauty.
Tang Dynasty Training Ground: is a composition inspired by Emperor Tang Taizong's military achievements during the Tang Dynasty. The piece features a solemn horn call, martial rhythms, and a passionate pipa solo representing the emperor's elite warriors training. Overall, the piece effectively conveys the rich history and culture of the Tang Dynasty.
If these highlights from the previous season pique your interest, there's a wealth of original compositions by the Shen Yun Symphony Orchestra waiting for your discovery. To immerse yourself fully in the orchestra's rich repertoire, consider visiting their official website or dedicated channel. Each piece, each note, is a step further into a world where Eastern and Western musical traditions harmoniously converge.
Selection of Timeless Orchestral Classics from the Western Music Canon
The Shen Yun Symphony Orchestra carefully selects and interprets pieces from the Western music canon to complement their original pieces and show their exceptional versatility as an ensemble. Their performances breathe new life into these familiar works, creating a unique and interesting audience experience. A few examples of these pieces include:
Gounod's Roméo et Juliette, Act IV, March: is a classical favorite from the famous 19th-century Parisian composer, Charles Gounod. This is the only operatic adaptation of Shakespeare's play still performed today. The wedding march in Act IV takes a different path from the original story. Instead, it serves as a fancy ballet number, a common feature in operas of the time. The Shen Yun Symphony Orchestra masterfully captures the passion and tragedy of the piece, offering a charming musical experience.
Smetana's Dance of the Comedians: from The Bartered Bride – the first great Czech opera. Bedřich Smetana, known as the father of Czech national music, composed works that captured the essence of the Czech spirit. The Bartered Bride tells the story of a young couple who get mixed up in misunderstandings and mistaken identities. Amidst the chaos, a circus arrives in town and introduces the lively Dance of the Comedians. This fast-paced folk dance, known as skočná, is marked by its infectious up-and-down rhythms, dynamic contrasts, and rousing syncopations. Each theme within the dance represents different characters and invites everyone to join in the spirited celebration.
Tchaikovsky's Waltz from Act I of The Sleeping Beauty: The Shen Yun Symphony Orchestra featured a masterful interpretation of Tchaikovsky's iconic Waltz from Act I of The Sleeping Beauty, Op. 66 in their 2018 repertoire. This is one of the world's most beloved and easily recognized waltzes. The enchanting piece sets the stage for the arrival of Princess Aurora on her sixteenth birthday. Tchaikovsky composed the score with remarkable speed and enthusiasm, bringing Charles Perrault's original fairy tale to life.
It's important to note that the Shen Yun Symphony Orchestra's repertoire evolves from year to year. Thus, the above selections serve as a mere glimpse into the magnificent classical pieces they have performed. You can anticipate hearing other iconic works by renowned composers such as: Ludwig van Beethoven, Wolfgang Amadeus Mozart, Antonín Dvořák,… To explore their diverse musical offerings, visit their official channel for a deeper dive into their stunning performances.
Bringing the Concert Experience Home: DVDs & CDs
For those who have experienced the magic of a Shen Yun concert, there's no doubt it is a memory they'll cherish for years. But did you know that you can bring the enchanting sounds of the orchestra into your home with their collection of DVDs & CDs?
Shen Yun Symphony Orchestra releases a series of high-quality recordings, seizing their most memorable performances and letting fans relive the joy and wonder of their concerts anytime they wish.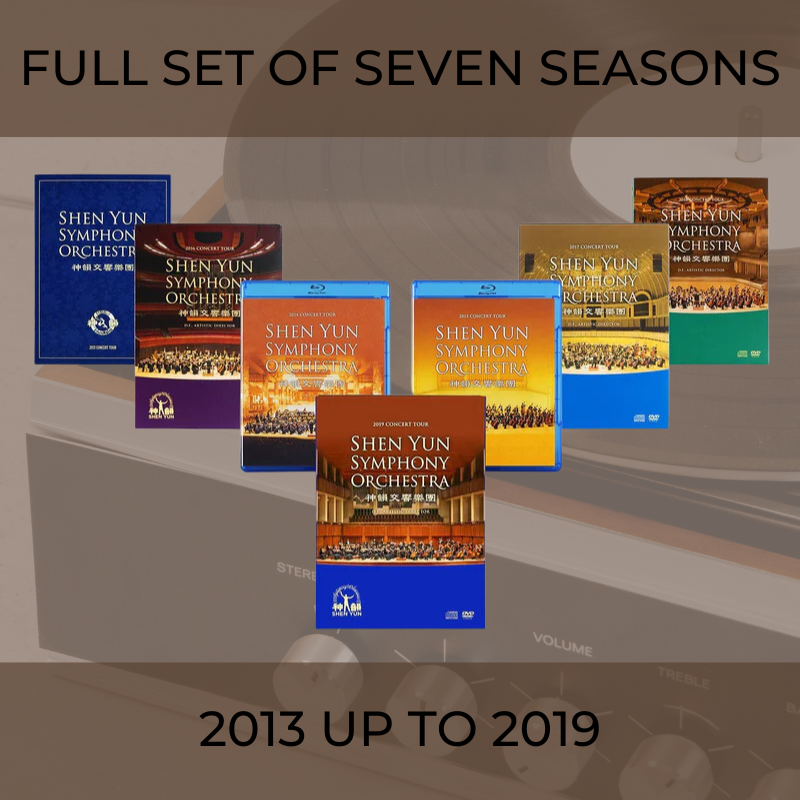 DVDs: A Visual and Auditory Feast
Shen Yun Symphony Orchestra's DVD releases not only capture the stunning audio quality of their live performances but also provide an immersive visual experience that showcases the beauty and intricacy of their stage production. From the conductor's elegant movements to the musicians' skillful playing, the DVDs allow you to fully appreciate the orchestra's artistry from the comfort of your home.
CDs: High-Quality Audio Recordings
For those who prefer to focus solely on the music, the Shen Yun Symphony Orchestra's CD releases feature high-quality audio recordings of their performances. You can explore their extensive repertoire with their CDs. The original compositions were inspired by China's rich cultural heritage and the timeless orchestral classics from the Western music canon.
The Perfect Gift for Music Lovers
Undoubtedly, this presents an exceptional gift for music lovers, providing a unique listening experience that transcends cultural and musical limits. Whether introducing someone to the orchestra for the first time or sharing their music with fellow fans, these high-quality recordings are a thoughtful way to spread the joy and wonder of the Shen Yun concert experience.
How to Buy Shen Yun Symphony Orchestra Recordings
If you're eager to add Shen Yun Symphony Orchestra's DVDs and CDs to your collection or gift them to someone special, buying them is a breeze. Here's how you can acquire your very own collection of Shen Yun Symphony Orchestra:
Visit the Official Shen Yun Symphony Orchestra Website: Visit the Shen Yun Symphony Orchestra's official website. Here, you'll find a wealth of information about their performances, history, and available merchandise, including their collection of DVDs and CDs.
Browse the Online Store: Navigate to the online store to browse the various Shen Yun Symphony Orchestra recordings and other merchandise. You'll find a detailed description for each product, making it easy to select the perfect addition to your music collection or find the ideal gift for a music lover.
Enjoy Worldwide Shipping: The Shen Yun Collections offers worldwide shipping, ensuring that fans everywhere can enjoy their charming music.
Stay Informed about New Releases: To stay informed about the latest Shen Yun Symphony Orchestra news, including new DVD & CD releases and upcoming performances, consider signing up for their newsletter. By doing so, you'll always be in the know and won't miss any exciting updates.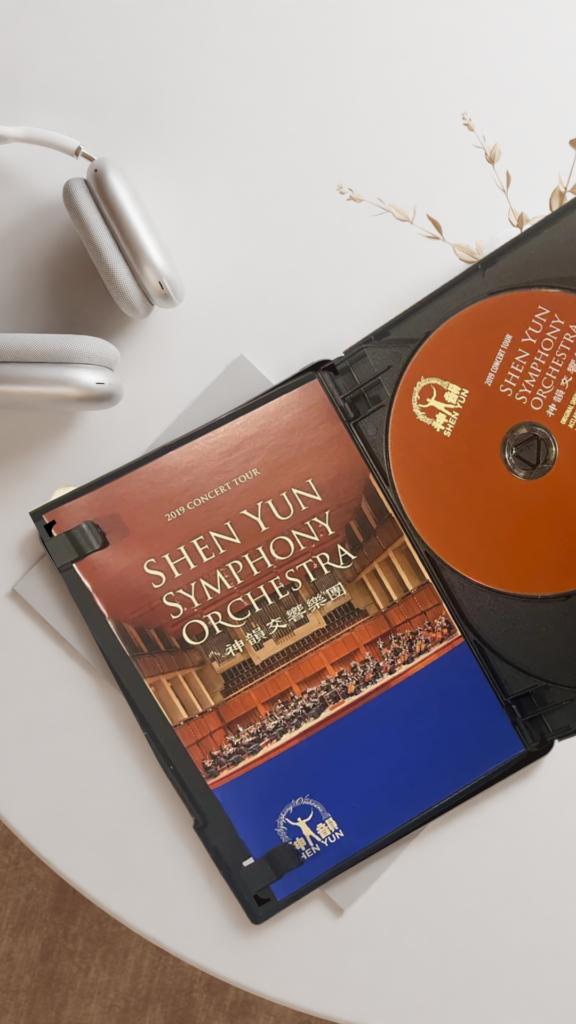 Finally, if you're lucky enough to attend a live Shen Yun performance, you might have the chance to purchase their DVDs and CDs directly at the concert venue. This is a great way to take home a piece of the magic you experienced during the performance.
The Alternative Ways to Enjoy the Shen Yun Symphony Orchestra
Shen Yun Creations: Exclusive Online Content
Shen Yun Creations (Shen Yun Zuo Pin) is an online platform dedicated to showcasing exclusive content from the Shen Yun Symphony Orchestra and Shen Yun Performing Arts. This platform offers a unique opportunity to delve deeper into the world of Shen Yun. You can explore behind-the-scenes footage, interviews with musicians and dancers, and special performances that are not available elsewhere. By subscribing to Shen Yun Creations, you can gain access to this exclusive content and further enrich your appreciation for the orchestra's music and artistic vision.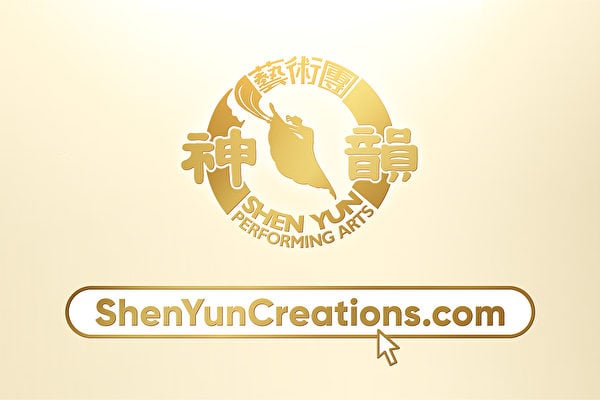 The subscription fees for Shen Yun Creations grant you access to their vast library of exclusive content. With different subscription plans available, you can choose the one that best suits your needs, whether you prefer a monthly or annual subscription.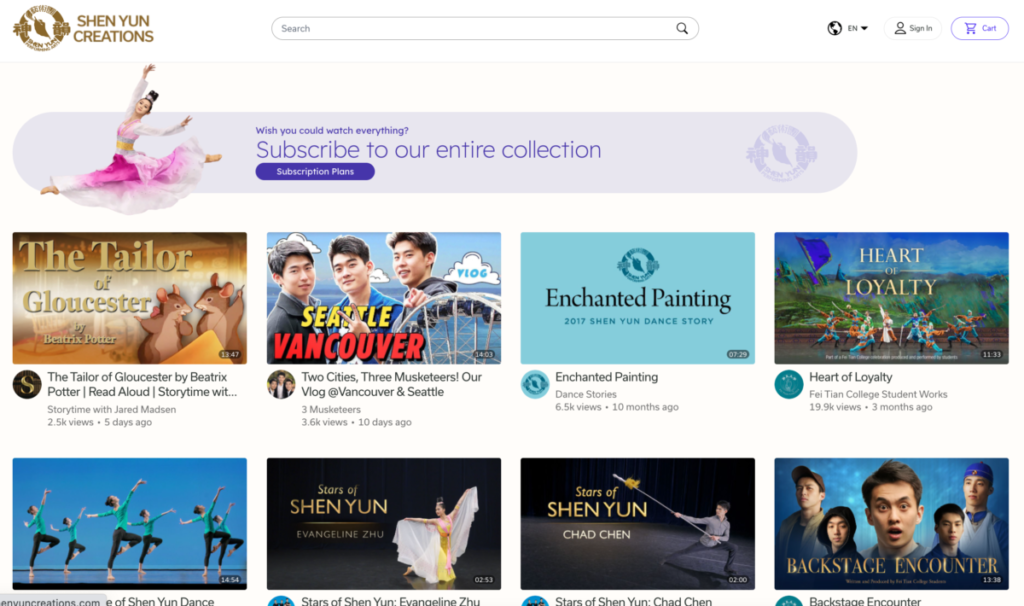 Take a leap into the enchanting universe of Shen Yun by visiting the Shen Yun Creations website today. Discover more about the subscription plans available and sign up to gain unparalleled access to the exclusive content.
Gan Jing World: Additional Access to Shen Yun's Artistry
Another exceptional way to enjoy the Shen Yun Symphony Orchestra outside the concert hall is through Gan Jing World. Gan Jing, which means 'clean' or 'pure' in Chinese, perfectly captures the essence of this platform. This website offers a wealth of resources and diverse content like other popular platforms. Notably, Shen Yun also has its own channels on this platform, ensuring easy access to their captivating performances.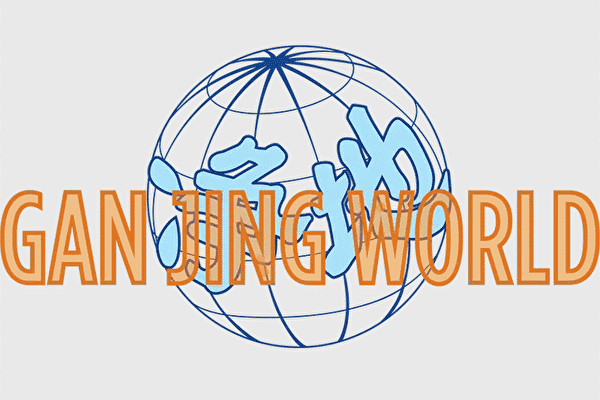 Within the virtual realm of Gan Jing World, an abundance of diverse content awaits, including the opportunity to enjoy Shen Yun's recorded performances.
To explore the range of experiences offered by Gan Jing World, simply visit their website and browse their vast selection of content.
FAQ
Q: What makes the Shen Yun Symphony Orchestra so special?
A: The Shen Yun Symphony Orchestra distinguishes itself through an adept fusion of Eastern and Western musical traditions. This unique blending results from incorporating traditional Chinese instruments such as the erhu and pipa into the backbone of a Western symphony, allowing for an innovative soundscape that leaves audiences spellbound.

Another feature that sets Shen Yun apart is their commitment to preserving the traditional Chinese "five-tone" scale. This approach marks them as one of the few modern ensembles that uphold this practice. This distinctive tuning system creates a unique auditory profile for Shen Yun's music, separating it from Western music, which commonly employs the modern twelve-tone equal temperament system.

Moving beyond their sound, Shen Yun further engages its audience through original compositions that draw inspiration from China's 5,000-year-old civilization. These compositions, steeped in folk tunes, myths, legends, and dynastic music, aim not just to entertain but also to stimulate a deeper spiritual reflection in listeners.

Influenced significantly by Chinese philosophy, Shen Yun's music encapsulates the harmonious relationship between heaven, earth, and humankind. When one delves into the ethos of Shen Yun's music, they encounter a strong spiritual theme. The principles of Truthfulness, Compassion, and Tolerance, inherent in the spiritual discipline of Falun Dafa, recur in Shen Yun's works. With this perspective, Shen Yun views its mission beyond art. The group strives to reawaken the essence of traditional Chinese culture and illuminate its inherent divine connections.
Q: Where are Shen Yun Symphony Orchestra's performances held?
A: The Shen Yun Symphony Orchestra has graced the stages of prestigious concert halls worldwide. From New York's esteemed Carnegie Hall to the illustrious Kennedy Center in Washington, D.C., the orchestra's performances have a global reach. Additionally, their music provides the sonic backdrop to the Shen Yun Performing Arts' worldwide tours.
Q: What kind of music does Shen Yun Symphony Orchestra perform?
A: Shen Yun Symphony Orchestra performs various music, from traditional Chinese melodies to classical Western compositions. The orchestra also performs original scores composed specifically for Shen Yun's dance performances. These compositions draw inspiration from various sources, including Chinese folklore, mythology, and spiritual traditions.
Q: How can I buy Shen Yun Symphony Orchestra recordings and access exclusive content?
A: You can acquire Shen Yun Symphony Orchestra's CDs and DVDs in several ways. The first step is to visit the official Shen Yun Symphony Orchestra website, where you can explore their online store – Shen Yun Collections, which provides detailed descriptions of each recording.

If you're attending a live performance, you may also have the opportunity to purchase CDs and DVDs directly at the concert venue.

Additionally, there is an exclusive online platform known as Shen Yun Creations (Shen Yun Zuo Pin). Here, you can delve into premier content from the Shen Yun Symphony Orchestra and Shen Yun Performing Arts. Subscription plans for Shen Yun Creations are available monthly or annually.

Gan Jing World is an ideal choice for those seeking a broad range of content beyond the concert hall. Like other popular platforms, you can search for various content by simply visiting the Gan Jing World website to discover more.
This post is also available in:
Tiếng Việt (Vietnamese)