Do you sometimes feel like your life is out of balance? You're not alone! Many people struggle to find a sense of harmony in their lives. Fortunately, there is a solution that may help: practice Falun Gong.
Falun Gong—also known as Falun Dafa—is an ancient Chinese spiritual practice that combines qigong movements with meditation and moral teachings. The system was created by Mr. Li Hongzhi and is based on the core principles of Truthfulness, Compassion, and Forbearance. By participating regularly, you can center yourself and achieve peace of mind. Plus, these exercises are easy to learn and don't require any special equipment. So why not give it a try? You just might be surprised at how effective it is.
How has doing Falun Gong exercises changed my life?
No one wants to feel weak or unhealthy at their age, especially when they are still relatively young. You want to do so many things but have no strength or health to make that happen. It's like a sheet of paper with your thoughts and aspirations on it, held down by an unseen force.
That was my case years ago. Although still in the bloom of youth, my health is constantly challenged by a weak immune system, causing constant fatigue and health issues. This isn't something that happens just once in a while, but it's like a constant shadow over my life. Because my body hardly ever feels good, my mood also gets low and stops me from doing what I want to do.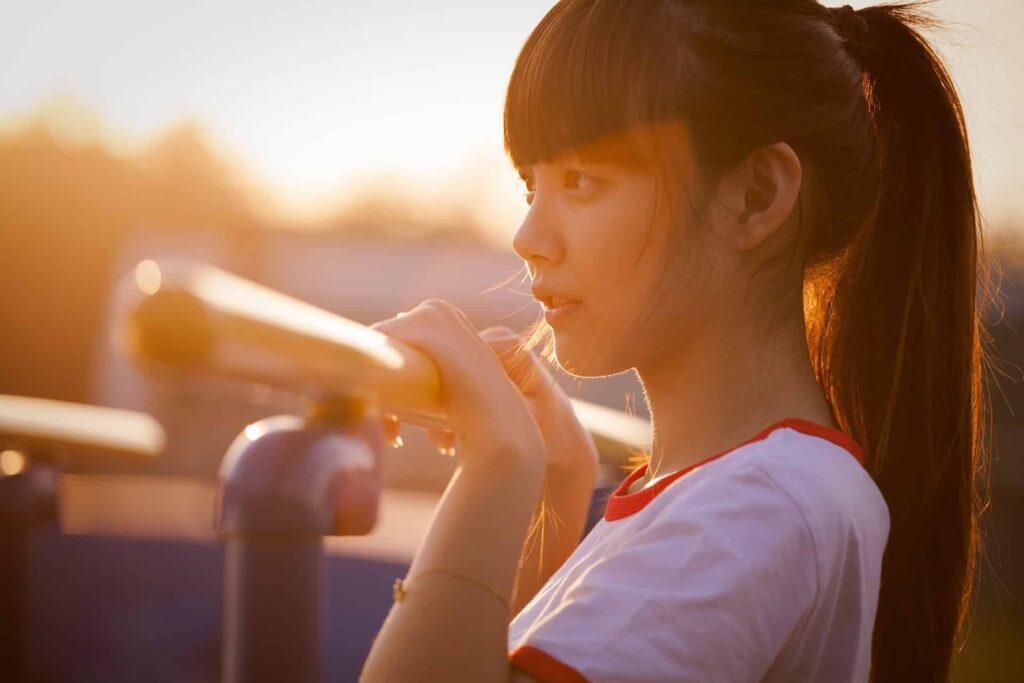 This feeling was extremely disheartening and led to hopelessness. But there is hope regarding Falun Gong (also known as Falun Dafa).
Initially, I was hesitant, but it soon became evident that the practice helped me manage my life. When I started practicing Falun Gong, my relationships and job improved along with my energy and attitude.
The core principles of Truthfulness, Compassion, and Forbearance were the foundation for all things that happened in my life. They enabled me to take charge of my thoughts, emotions, relationships, and goals. I understand that every misfortune that happens to ordinary people has a reason.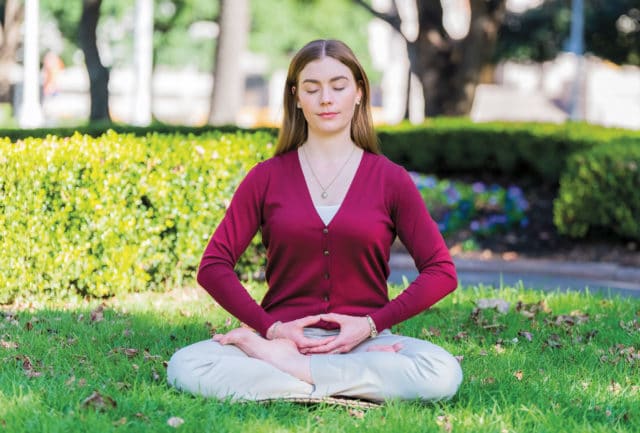 The physical exercises of Falun Gong were also incredibly beneficial. They allowed my whole body to relax and harmonize with my spirit. This improved not only myself mentally but physically as well.
To this day, I integrate the Falun Gong teachings into my everyday life and recommend it to anybody seeking balance. It's enhanced my life more than I can count, and I'm grateful to be a Falun Gong practitioner!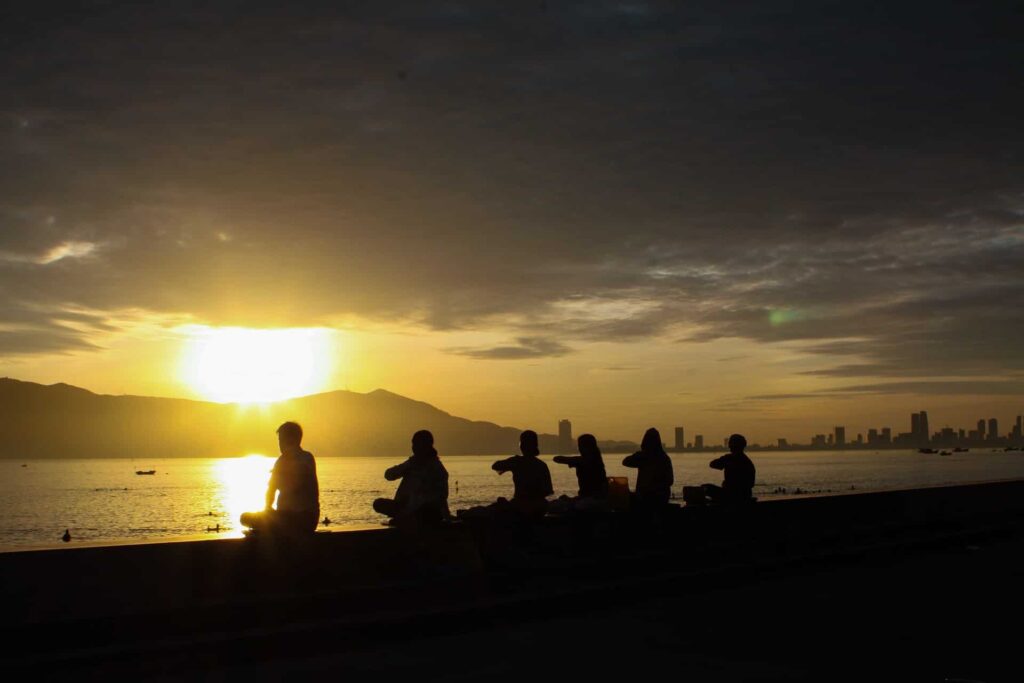 Some things about Falun Gong
The history and philosophy
Falun Gong, also known as Falun Dafa, is an ancient Chinese spiritual discipline that combines meditation and qigong exercises with moral philosophy. It was first widely disseminated in China in the 1990s by its founder Mr. Li Hongzhi.
As more people learn about Falun Gong, more people want to try it. As individuals experience the numerous benefits it offers, they eagerly share their positive experiences with friends and acquaintances. This enthusiastic word-of-mouth has transcended borders, reaching over 100 countries worldwide, where individuals have embraced and incorporated Falun Gong into their daily lives.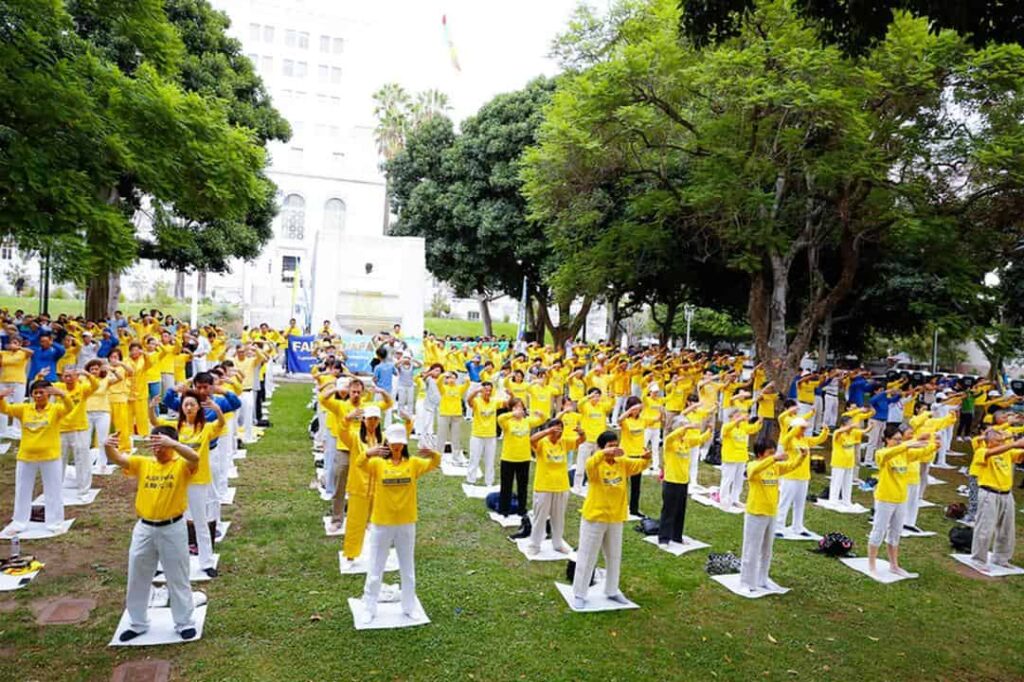 A philosophy that teaches:
Truthfulness – A commitment to maintain a high moral character, speak honestly, keep one's promises, and live an ethical life.
Compassion – Demonstrating kindness towards others and being forgiving of their shortcomings.
Forbearance – Patience, tolerance, and restraint in the face of provocation or difficulty.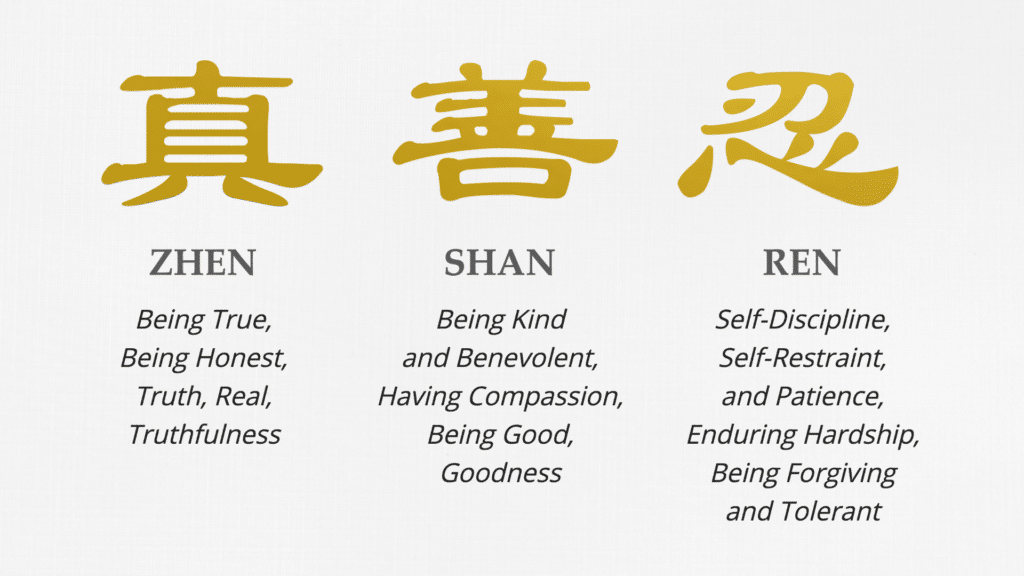 Mr. Li Hongzhi's book Zhuan Falun discusses these three tenets in-depth and is accessible online and in print. Practitioners use the tenets to guide them on their journey to become better people with good physical health, spiritual peace, and improved moral character.
The benefits
Falun Gong's five exercises incorporate meditation and qigong movements designed to bring the human body into harmony, thus promoting deep spiritual healing.
Practitioners report feeling relaxed and more at ease, with improved coordination, increased strength and flexibility, and better circulation and qi (life force or energy) throughout the body.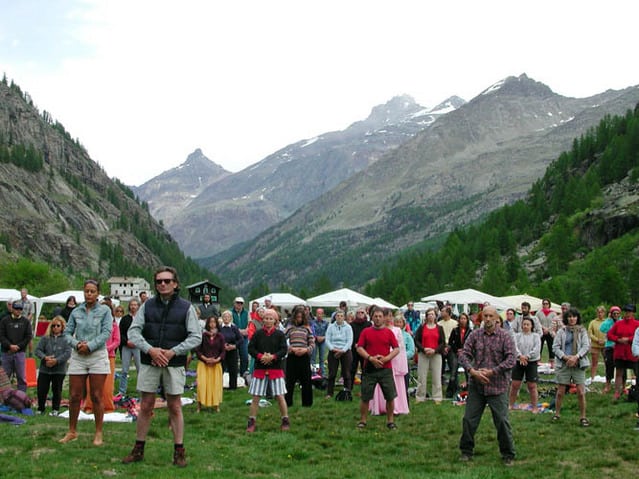 Mentally, because Falun Gong's five gentle exercises are designed to be calming and nurturing to the mind, people can become more mindful of their thoughts, feelings, and actions. It teaches the importance of self-reflection, and its moral teachings can help to strengthen relationships with others.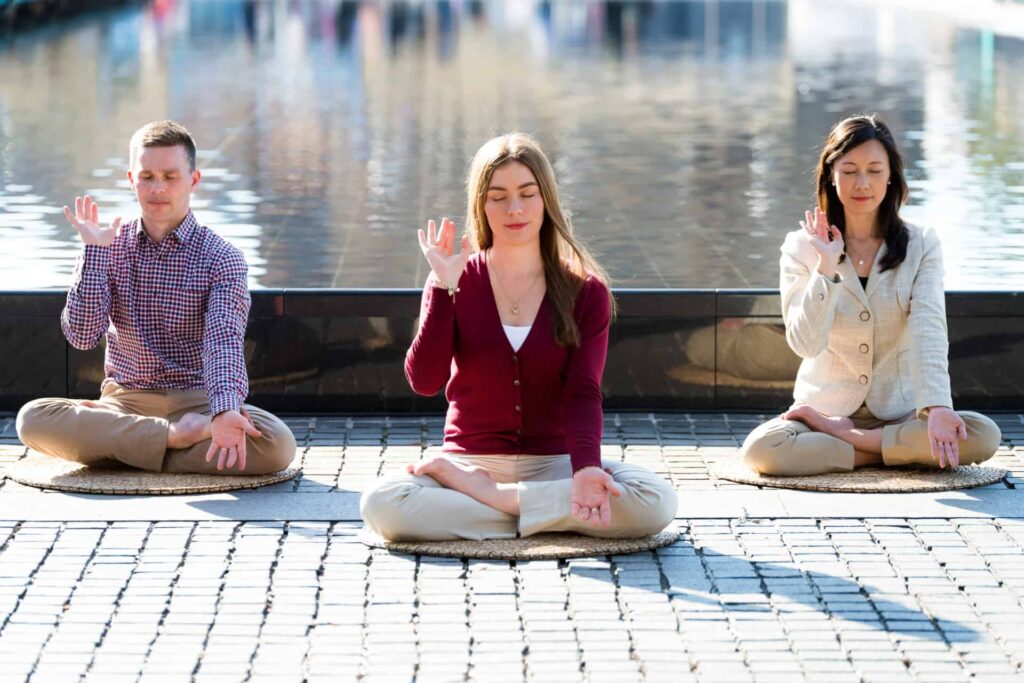 Spiritually, through studying teachings about the principles of Truthfulness, Compassion, and Tolerance, practitioners can deepen their understanding of themselves and their place in the world and come closer to their Creator.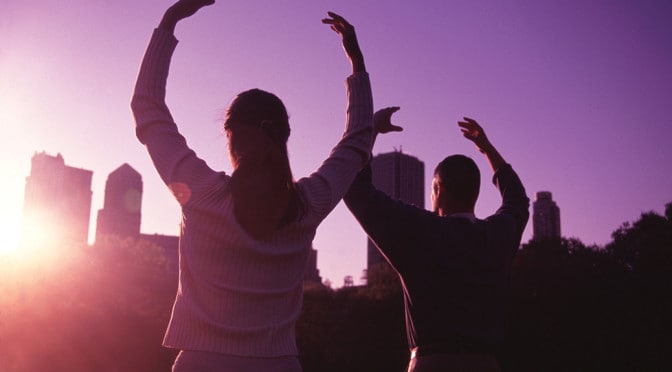 They also learn how to respond to life's challenges positively – by viewing them from a larger perspective and striving to live in harmony with the universe.
Falun Gong provides a path for spiritual growth, as disciples can explore their inner truth, come closer to their divine nature, and even attain enlightenment. Through mindfulness and compassion, we transform into better versions of ourselves, steering us toward a life of profound spiritual fulfillment. Recognizing and harnessing our inner strength opens the door to our full potential, enabling us to catalyze positive change not only within ourselves but also radiating outwards to those in our surroundings.
The five main exercises involved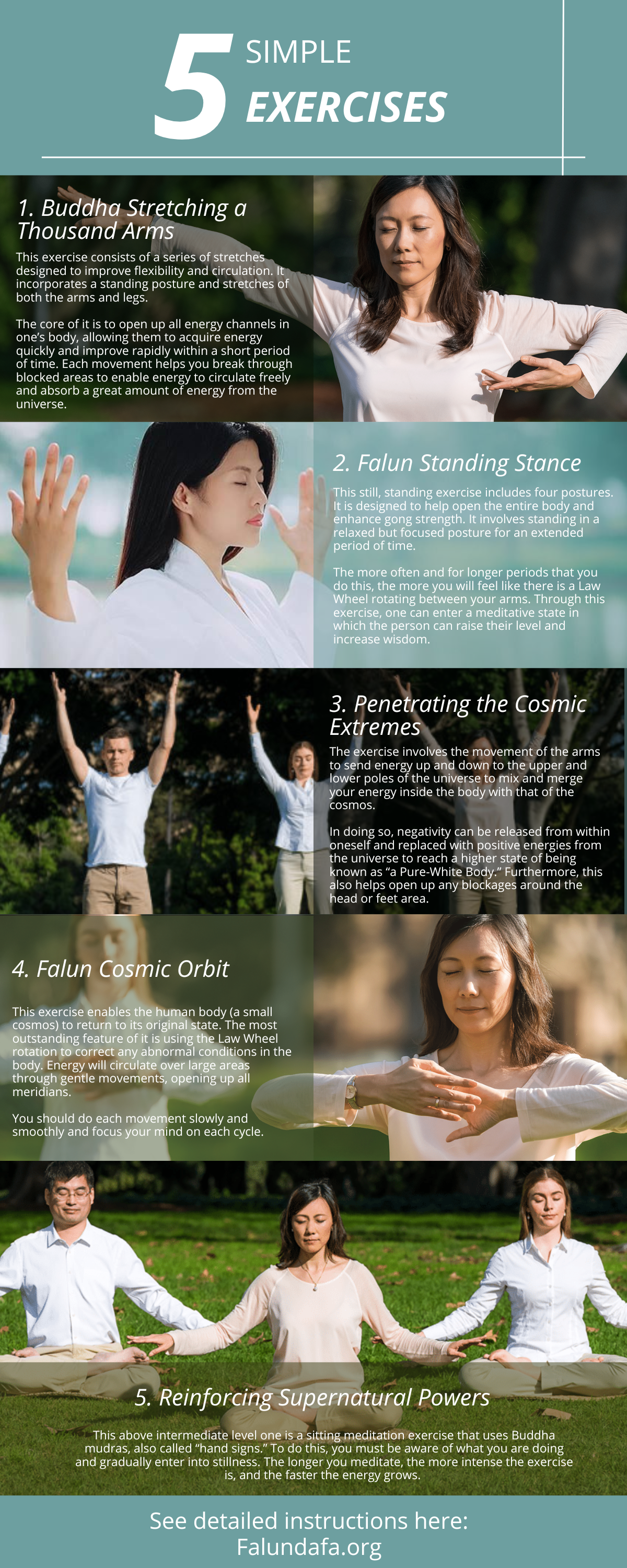 The First Exercise: Buddha Stretching a Thousand Arms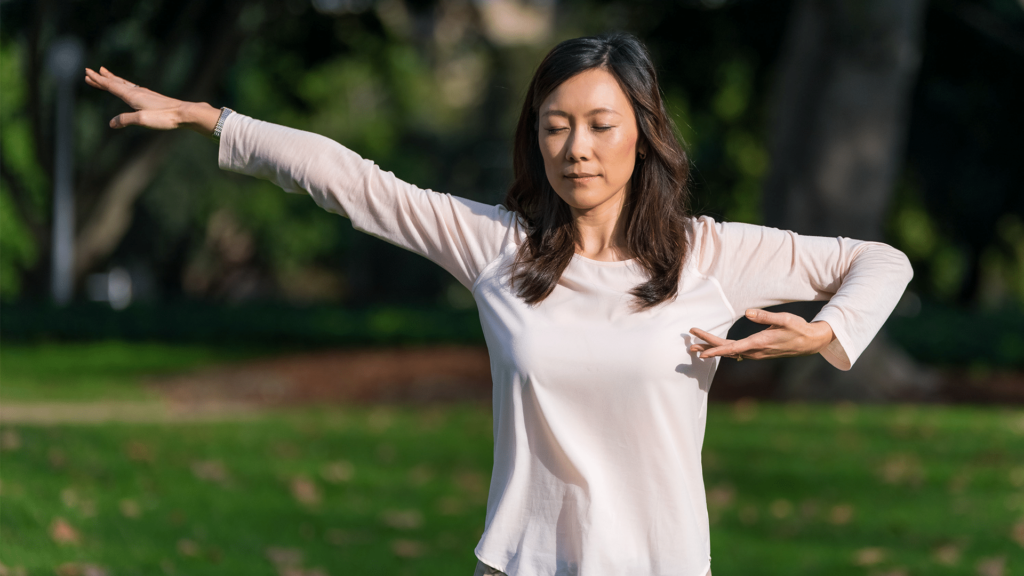 This exercise consists of a series of stretches designed to improve flexibility and circulation. It incorporates a standing posture and stretches of both the arms and legs.
The core of Buddha Stretching a Thousand Arms is to open up all energy channels in one's body, allowing them to acquire energy quickly and improve rapidly within a short period of time. Each movement helps you break through blocked areas to enable energy to circulate freely and absorb a great amount of energy from the universe. (See detailed instructions).
The Second Exercise: Falun Standing Stance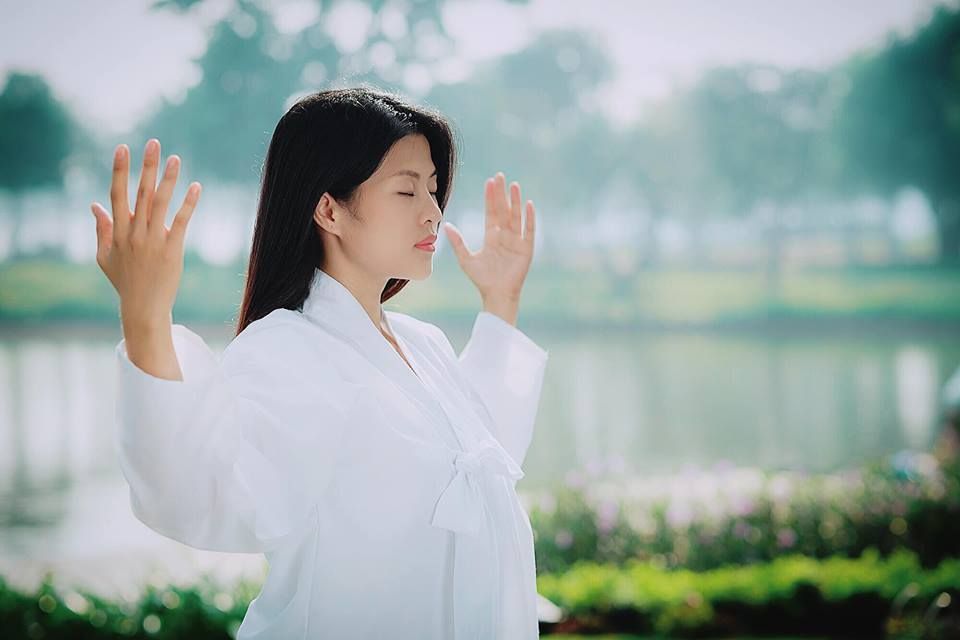 This still, standing exercise includes four postures. It is designed to help open the entire body and enhance gong strength. It involves standing in a relaxed but focused posture for an extended period of time.
The more often and for longer periods that you do this, the more you will feel like there is a Law Wheel rotating between your arms. Through this exercise, one can enter a meditative state in which the person can raise their level and increase wisdom. (See detailed instructions).
The Third Exercise: Penetrating the Cosmic Extremes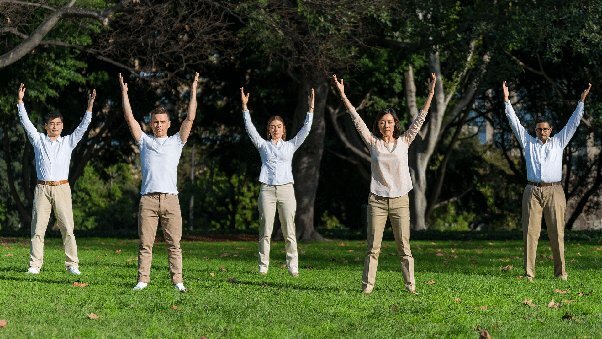 The exercise involves the movement of the arms to send energy up and down to the upper and lower poles of the universe to mix and merge your energy inside the body with that of the cosmos.
In doing so, negativity can be released from within oneself and replaced with positive energies from the universe to reach a higher state of being known as "a Pure-White Body." Furthermore, this also helps open up any blockages around the head or feet area. (See detailed instructions).
The Fourth Exercise: Falun Cosmic Orbit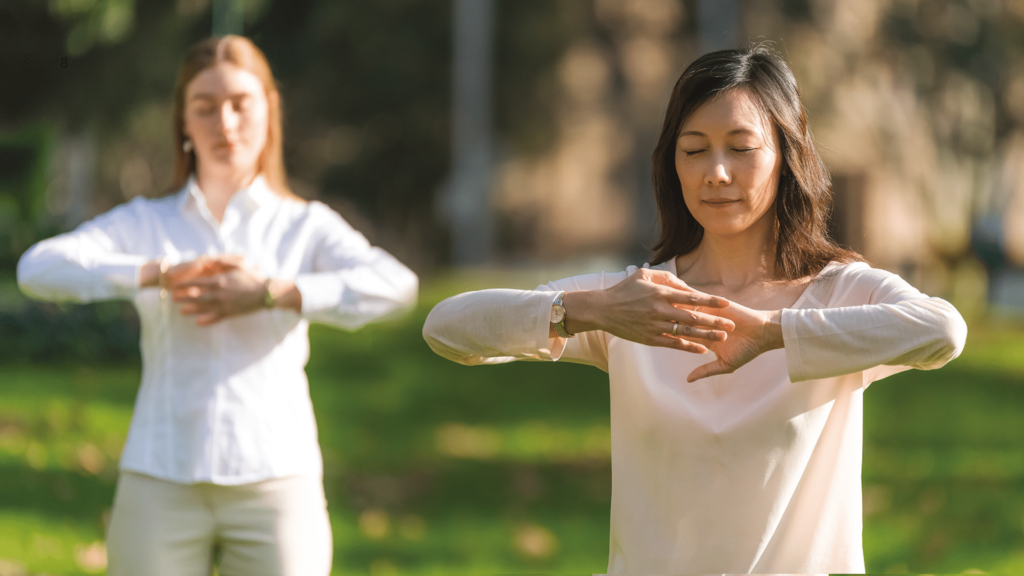 This exercise enables the human body (a small cosmos) to return to its original state. The most outstanding feature of it is using the Law Wheel rotation to correct any abnormal conditions in the body. Energy will circulate over large areas through gentle movements, opening up all meridians.
You should do each movement slowly and smoothly and focus your mind on each cycle. (See detailed instructions).
The Fifth Exercise: Reinforcing Supernatural Powers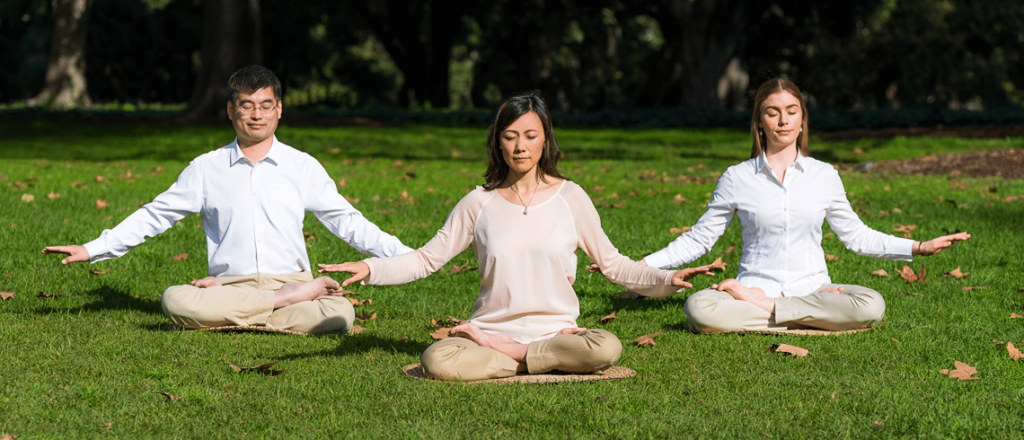 This above intermediate level one is a sitting meditation exercise that uses Buddha mudras, also called "hand signs." To do this, you must be aware of what you are doing and gradually enter into stillness. The longer you meditate, the more intense the exercise is, and the faster the energy grows. (See detailed instructions).
Why you should start doing the exercises of Falun Gong today
Today, there is a lot of stress and tension. People easily feel overwhelmed by the pressures of life and the fast-paced society. You may also find yourself lost and confused, lacking a sense of direction.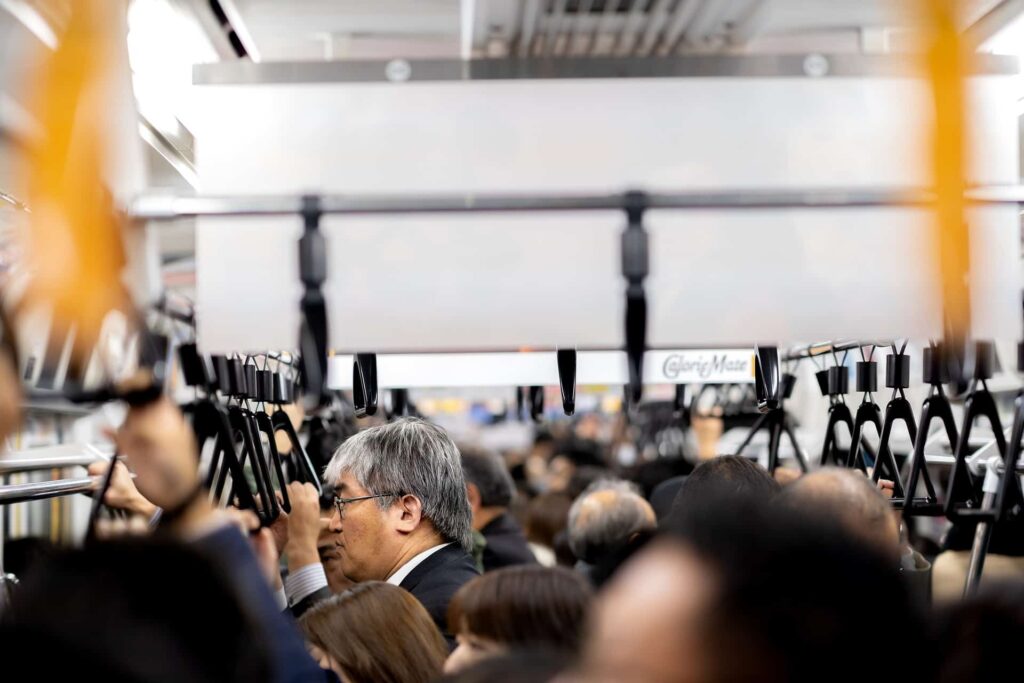 If you continue to let all of these things wrap around you and build up, you might find yourself buried in a cycle of negative thoughts and feelings. They'll start to control you. So be honest with yourself: what is the purpose of YOUR existence?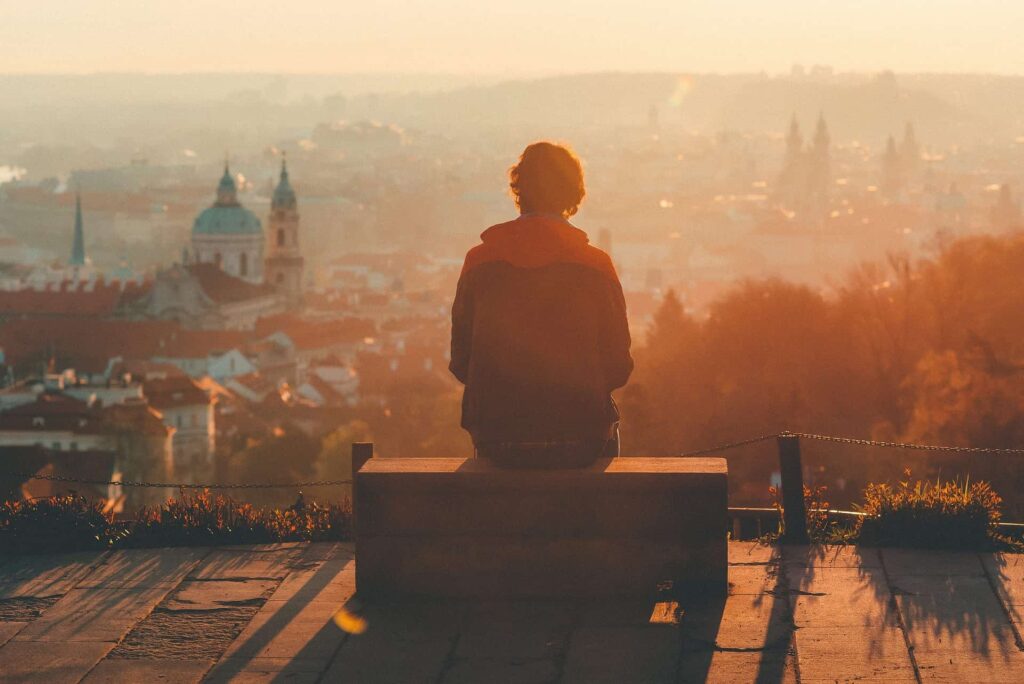 Practicing Falun Dafa can help you go beyond the noise. The exercises will free your mind and body from stress and connect you to a higher sense of purpose.
Combining these gentle exercises and spiritual teachings from the book Zhuan Falun, you'll be able to realign your energy and see the path to a full life while feeling in harmony with yourself and the world around you.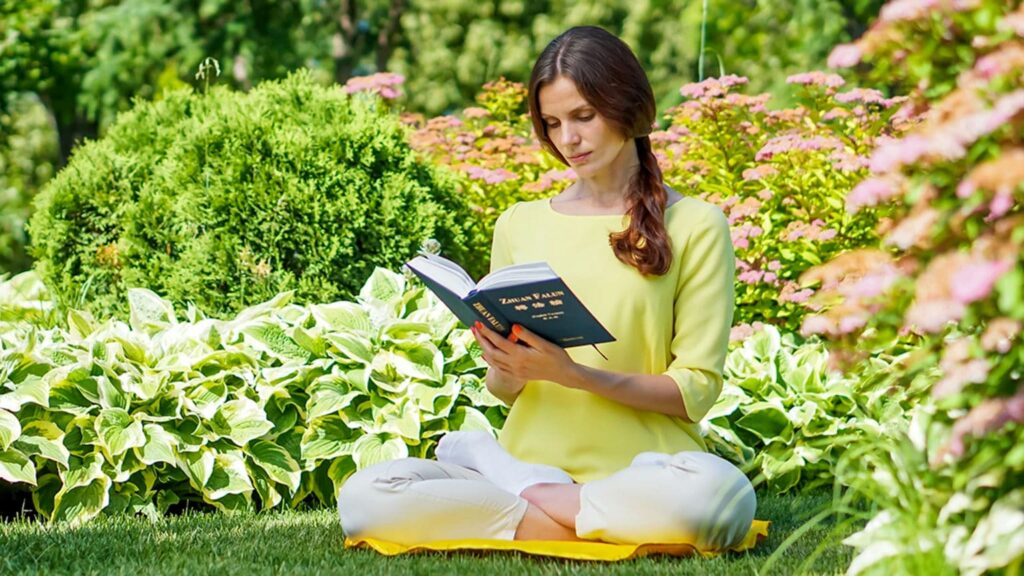 Unlike other types of exercise or self-discipline, you do not need a lot of equipment or knowledge to do Falun Gong. All you need is to be determined and have a peaceful place to do it.
Practicing it does not require much time either, with one hour per day sufficient for most people.
Additionally, it is free and open source, so you can find the teachings and exercises online or attend the local group to meet experienced practitioners who can help guide you.
That means it is accessible to anyone and everyone, no matter their circumstances or geographical location.
The great thing about Falun Gong is that you can adapt it to your lifestyle without pressure or stress. Just make a commitment to yourself, and you can do it!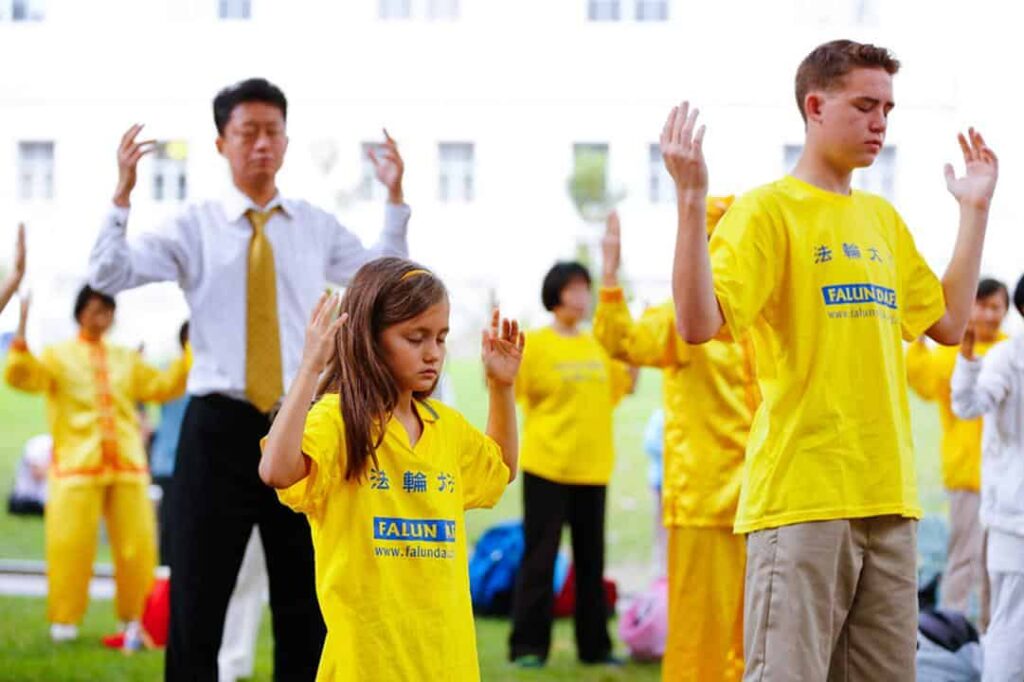 How to get started
Getting started with Falun Gong is easy! All you need to do is find a local group near you (or online!) that can teach you the basic exercises and provide guidance.
Or, if there is none near you, find the guided exercises online. It's as simple as that!
Once you learn the basics, you can start practicing at home or join a local group for support and camaraderie.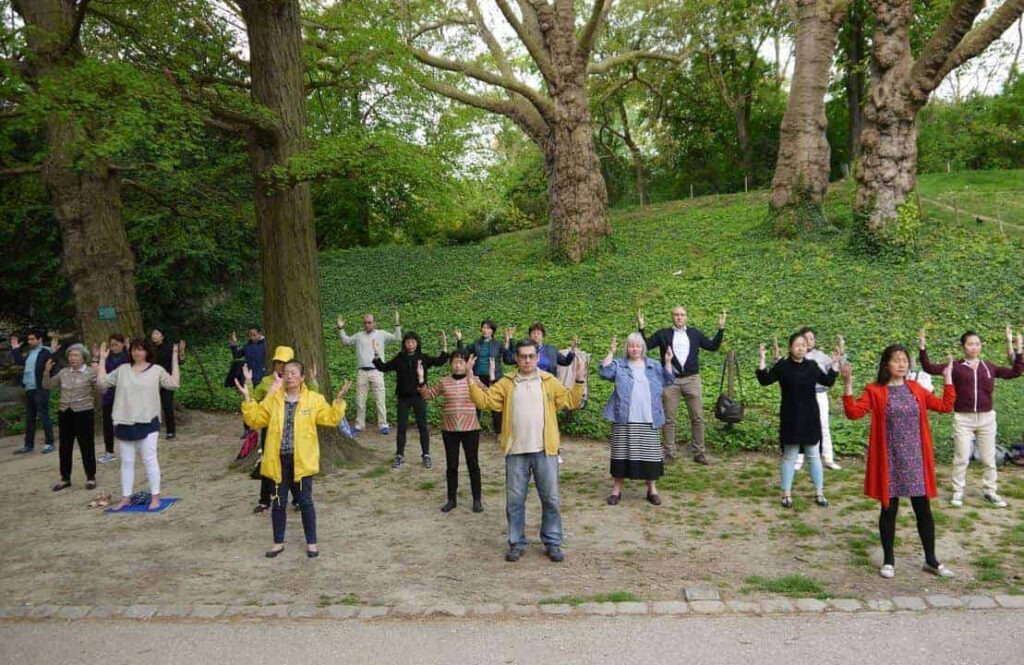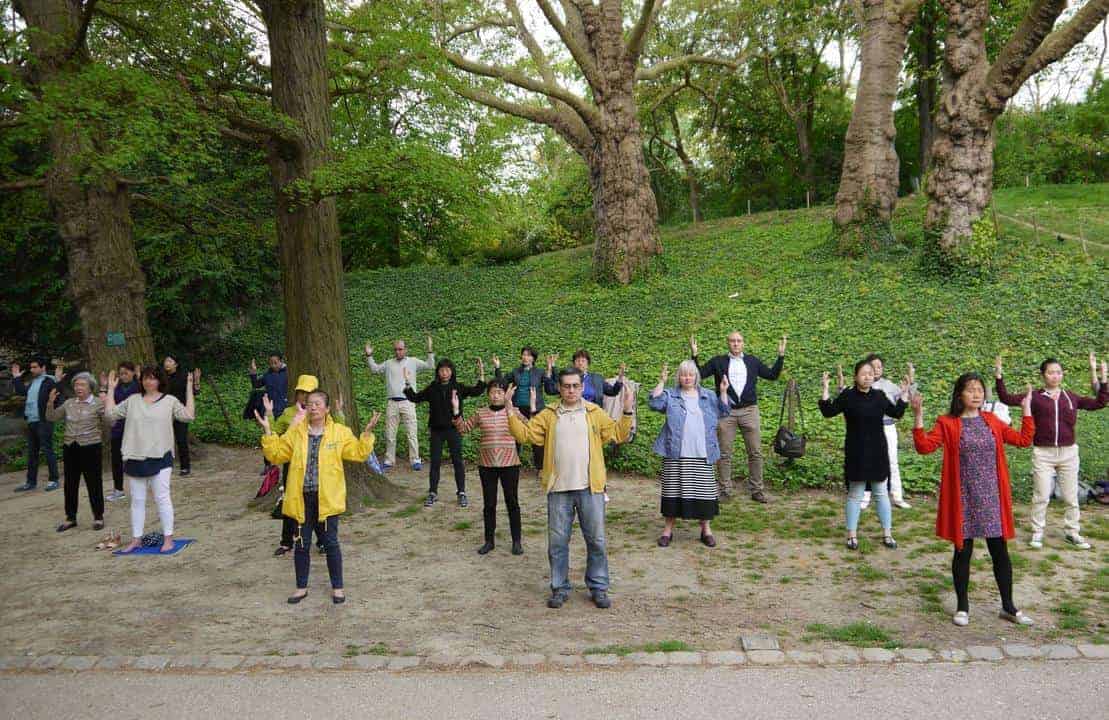 In addition to learning about the exercises themselves, it's also essential to learn the principles behind them; understanding these will help deepen your experience and bring greater clarity into your life as you continue your journey with Falun Gong.
Tips for doing the exercises correctly
Set Aside Time for Practice
Dedicate a specific time each day to do the exercises so that it becomes a habit. It doesn't matter if you do this in the morning or at night, but what is important is the discipline of practicing every day.
Find a Quiet Spot
Choose a place where you won't be interrupted when doing the exercises. Make sure your space is free from distractions, like TV or the internet. This will help you focus on the exercises and get the most out of them.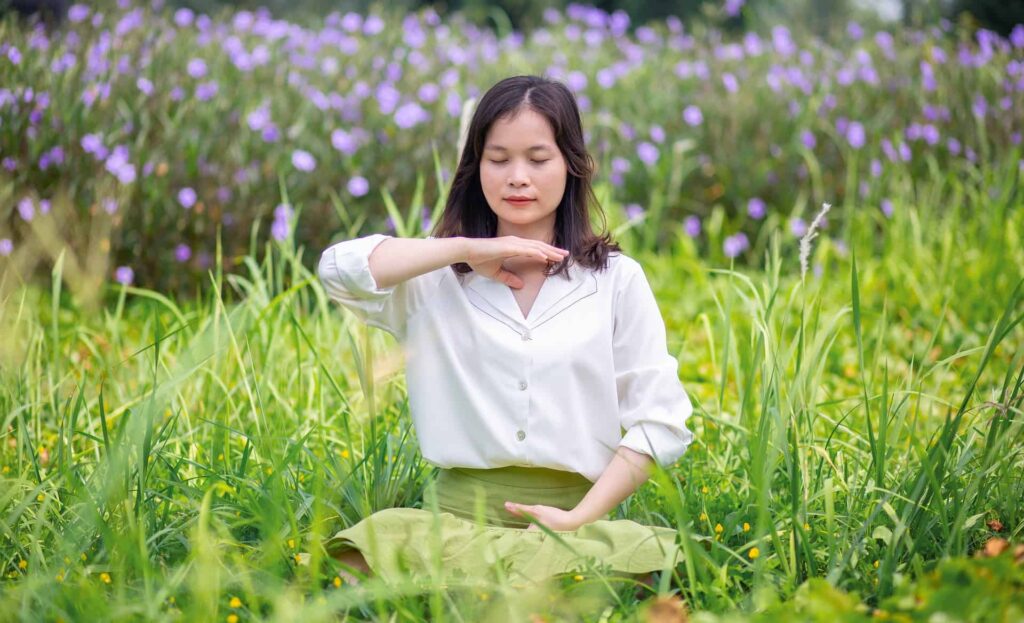 Follow Instructions Carefully
Spend time watching an instructional video online by Mr. Li Hongzhi; this will ensure that your movements are correct and you get the most benefit from each exercise.
Additionally, it doesn't stop at just doing physical exercises; the lectures of Mr. Li are full of insights that will help you understand the philosophy behind the practice and have a deeper understanding of it.
Get advice from your local group or an experienced practitioner to ensure you do the exercises correctly.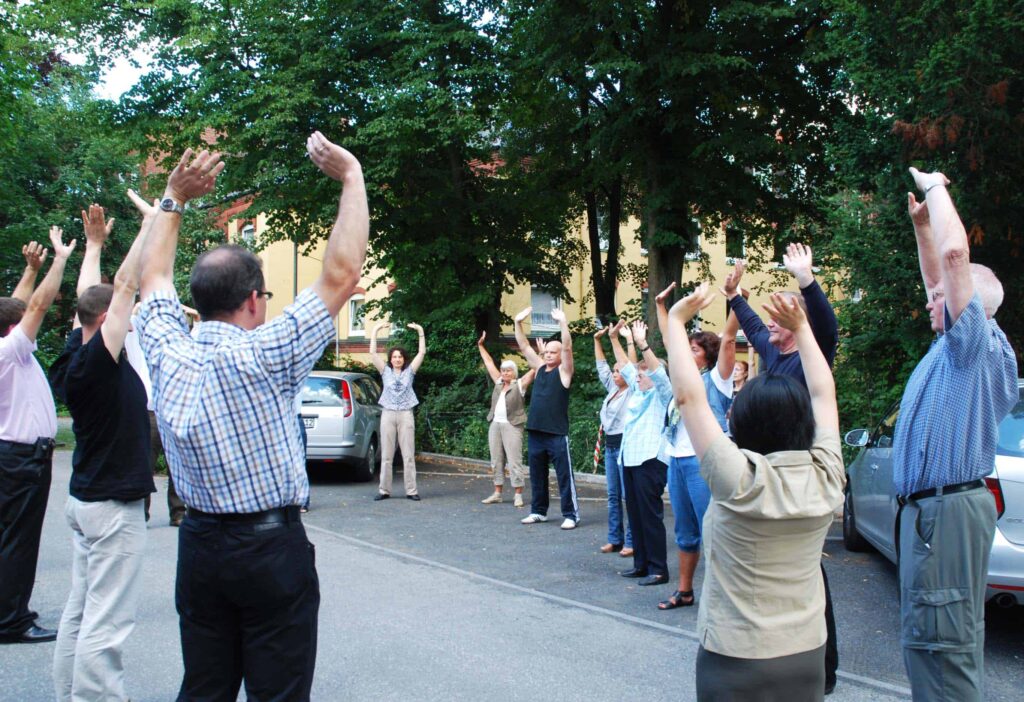 Stay Mindful and Present during each exercise
When doing the exercises, you must stay mindful and present. This means being aware of your body and the movements you are doing. You have to know you're doing exercise there, don't let yourself fall asleep or let your body and mind wander.
Take Your Time With Each Exercise
Don't rush through the exercises. Take your time and focus on each movement and its purpose. This will ensure you get the most out of each exercise and help you maintain concentration.
The importance of reading the book Zhuan Falun and following the teachings while practicing
While people often fail to recognize the profound importance of moral values in their daily lives, they are actually the key to improving one's life and strengthening physical health. Especially for Falun Dafa disciples, adherence to Truthfulness, Compassion, and Tolerance is paramount.
These principles are not just a set of rules; instead, they are a way of life that should be applied to all aspects of our existence.
As mentioned above, Falun Gong is not just doing physical exercises. It is a spiritual practice that helps people cultivate character and moral compasses. By adhering to the principles besides doing the exercises, you can bring these important qualities into your life and ensure the best results.
That's why reading and following Mr. Li Hongzhi's lectures in Zhuan Falun, the main book of Falun Gong, is vital. In this book, Mr. Li explains how to apply these principles in our daily lives and cultivate inner strength and harmony.
At the same time, it is important to remember that this way of life should never be forced upon anyone; rather, it must come from within each individual for them to truly benefit from its teachings.
In summary, while practicing Falun Gong, you not only do exercises but also have an opportunity to cultivate moral values that can profoundly affect your life. So it's essential to embody these three principles in all aspects of life, not just during the exercises. That way, you can benefit from a complete practice and experience to the full potential of Falun Gong.
You can read Zhuan Falun entirely here: https://falundafa.org/eng/eng/zfl_2018.html
Stories of people who have benefited from practicing Falun Gong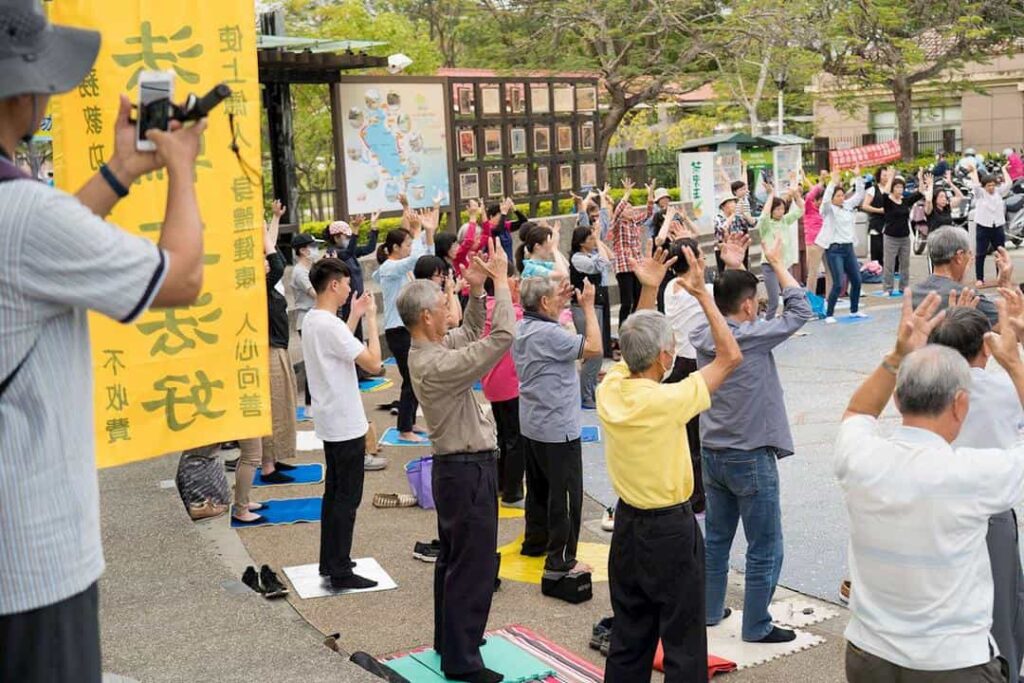 It is often said that the best way to understand something is to hear how it has benefited others. Here are some stories of people who have experienced positive results from Falun Gong:
Story 1
A physician with over 20 years of clinical experience and formal training in Western and Chinese medicine realizes that many illnesses remain beyond treatments known today. They also come to accept that being a doctor does not make them invincible when it comes to health problems.
This doctor had been living with many personal health issues throughout their life, including glaucoma and problems with the cervical vertebra that could lead to blindness and paralysis. As they aged, they started to have many new issues, such as diarrhea, influenza, chronic cough, and joint pain. Despite trying many types of treatments, their symptoms did not improve.
After reading Zhuan Falun, the doctor became interested in Falun Dafa's teachings. They realized this knowledge was much broader and higher than anything else they had learned before about medicine, humanity, and the universe, so they started cultivating Falun Dafa.
The doctor read Zhuan Falun repeatedly, learned the five sets of exercises, and followed the standards of Falun Dafa practitioners to improve their character.
After practicing, they found that their physical condition quickly improved. The doctor's body used to be very sensitive to heat and cold because of a cervical vertebra problem, but now it is no longer affected. Most of the other illnesses have also disappeared.
Now they are very healthy and energetic and have shared their story online as proof that others can benefit from Falun Dafa just as much as they did to spread awareness about it: https://en.minghui.org/emh/download/ebooks/e008.htm
Story 2
Another story about a Ph.D. student at an American university who was diagnosed with Hypermobility Syndrome, for which doctors claim there is no cure– only painkillers to manage the chronic pain they will endure for the rest of their lives.
The student was seeking a diagnosis and becoming frustrated with the responses they were receiving. Their condition deteriorated further, and it became difficult for them to walk.
Then, the student found an article on a website about how Falun Dafa cured the same condition, which made them hopeful and decided to study it.
When they started reading Zhuan Falun, they had lots of questions. But they soon realized that it taught people how to improve their character. After practicing for just two nights, they began to generate heat; the next day, their bad breath from illness had gone completely.
After the student learned Falun Gong, they noted positive changes such as improved sleep and appetite. They returned to Taiwan to learn more about this life-changing practice from other like-minded individuals.
The student became more determined to practice and attended a seminar. After the seminar, their body had changed; red dots appeared on their neck. However, through continued practice, the symptoms not only disappeared, but they gained back the use of their feet so that they could walk like everyone else and even do meditation for 50 minutes.
When relatives and friends saw how Falun Dafa had positively impacted the student's health condition, they decided to start practicing as well.
You can read the entire inspiring story here: https://en.minghui.org/emh/download/ebooks/e013.htm
Story 3
One more story is about Hulia, an 81-year-old Native American woman who always lived in Machu Picchu (Lost City of the Incas) located in Peru. She and her husband have had a difficult life raising four sons, all of whom had to leave home to find work. On top of that, Hulia has battled many illnesses throughout her lifetime. One night she even lost hearing in both ears simultaneously.
One day, one of her sons returned home after many years away. Hulia was overjoyed to see him and was concerned about how he cured his spinal problem. He told her about Falun Dafa, showed her how to do exercises, and gave her a copy of the book Zhuan Falun with the Teacher's photo inside. As soon as she saw it, tears streamed down her face uncontrollably.
So that Hulia left her home in the remote mountain village and traveled to Peru's capital Lima with her son. There, she attended an exercise site with a group of people.
After practicing and watching all nine lectures of Teacher Li Hongzhi, Hulia began having strange itches in her ears, and then miraculously, her hearing was restored! She was grateful beyond words for how Master had given her a second chance at life.
Hulia is one of the many people whose lives have been deeply touched by Falun Dafa. You can find her story here: https://en.minghui.org/emh/download/ebooks/e055.htm
And there are more stories like Hulia's that demonstrate how Falun Dafa has changed many lives for the better. If you're interested in reading more, please visit the Minghui website, where you can find plenty of articles about how those who learn Falun Dafa have greatly benefited => https://en.minghui.org/cc/17/
Are Falun Gong practitioners rejecting modern medicine?
The answer is obviously NO. Falun Gong followers do not reject modern science.
There's a lot of misunderstanding about Falun Gong. Many ex-believers mistakenly believe that those who follow Falun Gong seek to become super human beings who can prevent ailments and don't need doctors or medicine. This could not be more wrong—they actually see the benefits of modern medicine.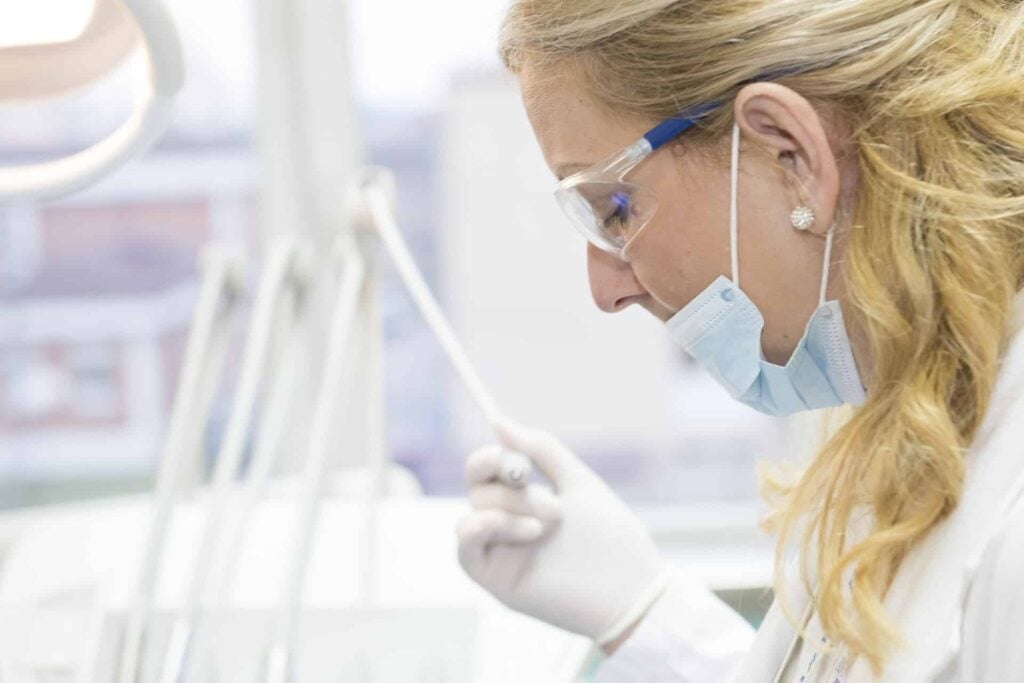 In fact, Falun Gong followers seek a balanced life focused on cultivating moral character and physical health and do not seek out extraordinary qualifications.
Falun Gong is a practice of self-improvement based on Truthfulness, Compassion, and Forbearance principles. It's simply about trying to be a good person and becoming more spiritually enlightened.
And there are no hard-and-fast rules about what you can or can't do. Mr. Li Hongzhi has encouraged practitioners to make their own decisions about how to handle medical issues that arise.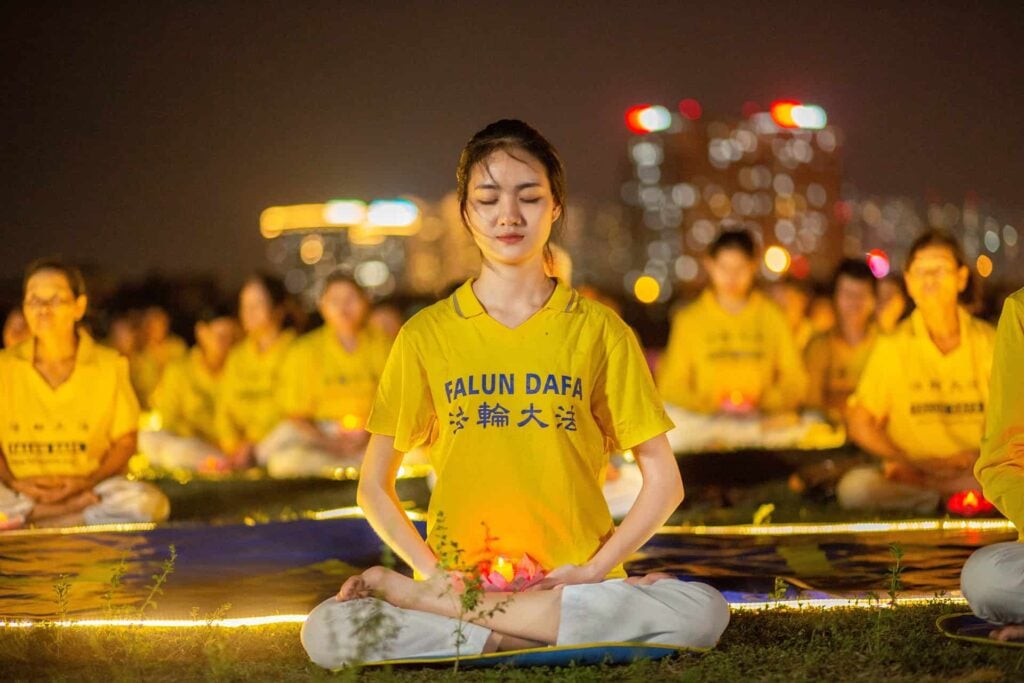 Many Falun Gong practitioners use medicine, but they also believe in the power of cultivating their minds and bodies through spiritual exercises. This helps them to heal naturally on a deeper level and become more balanced overall. So while practitioners may choose to use the medicine, there are other options.
At the end of the day, healing is all about finding what works best for each individual, and Falun Gong practitioners are no exception. They have their own unique set of beliefs and principles that guide them on their path to wellness. And if they find that medicine works best for them, they should certainly use it.
Falun Gong in China
Falun Gong, also known as Falun Dafa, is a spiritual practice originating in China in 1992. It has been steadily growing since then and now has millions of followers worldwide.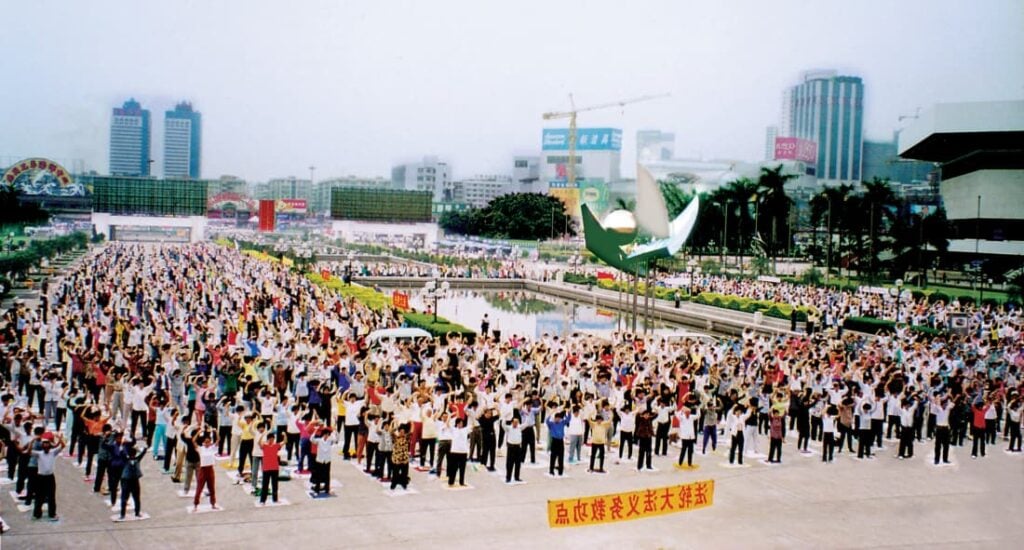 Unfortunately, in 1999 the government in China began to persecute practitioners of Falun Gong in an effort to eradicate it. This led to millions of people being arrested, detained, and tortured for their beliefs.
It's necessary to understand that stories that paint Falun Gong in a negative light, such as racially segregated and having cult-like behavior, are inaccurate and spread by the Chinese government to discredit the practice.
Many people don't know that when Falun Dafa first began, it was approved by the government and became very popular in China.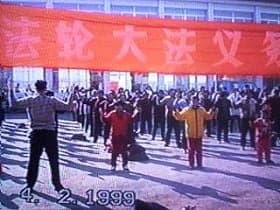 But because its large amount of disciples threatened to overtake Chinese communism, the government reversed its stance. Consequently, a campaign began spreading false information, branding members as part of an evil cult, and persecution against practitioners has been occurring ever since.
Fortunately, Falun Gong is still growing despite all of the obstacles that it faces. This is likely why so many people are amazed by the incredible willpower and inner strength that Falun Gong practitioners display in the face of such intense persecution.
By getting the facts straight, we can better understand what Falun Gong is all about and how its practitioners are actually using it to help improve their lives.
Please visit faluninfo.net and minghui.org for more information. Thank you!
FAQs
How do I do Falun Gong?
Answer: This gentle practice can be done indoors or outdoors and can be adapted to any level of physical ability. The exercises are easy to learn, and all that you need to get started is a quiet place and follow the instructional videos.

Is Falun Gong safe?
Answer: Yes, Falun Gong is a safe practice that millions of people worldwide have practiced over the last three decades. The practice is gentle and does not involve physical strain or risky maneuvers. Additionally, practitioners often report increased energy, improved health, and overall well-being after practicing.
How do I find a Falun Gong group?
Answer: You can search for groups in your area.
Additionally, you can also learn Falun Gong with online classes.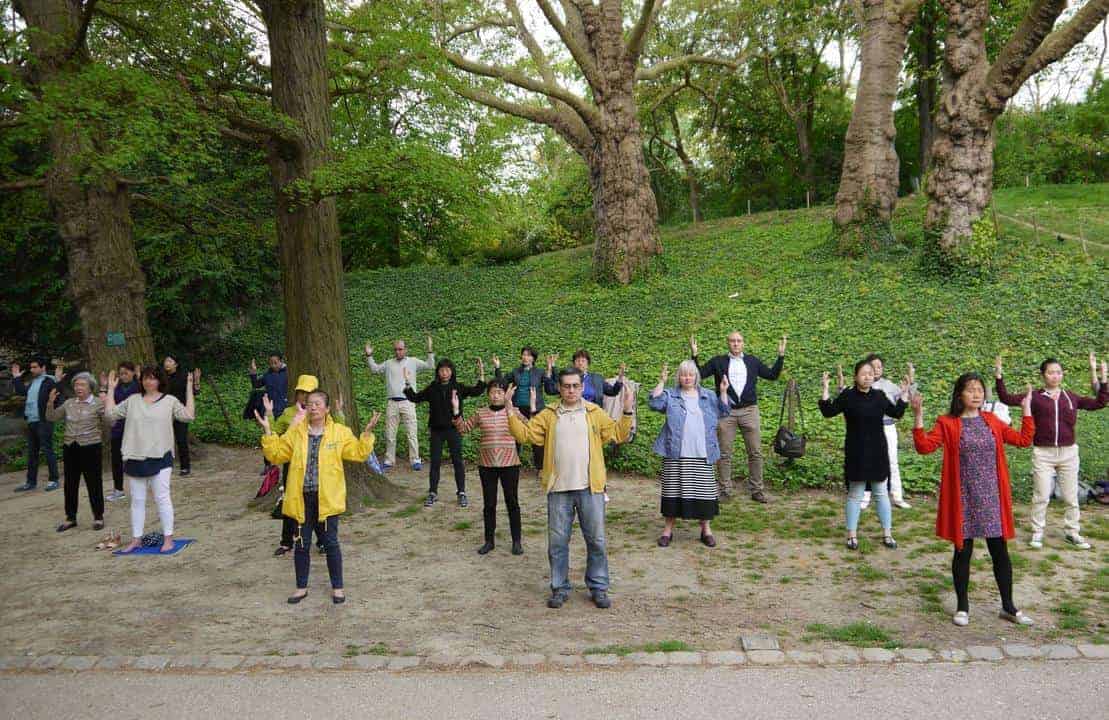 How often should I do the exercises?
Answer: It is best to do the exercises every day. However, you can practice 3-4 times per week as well. The key is to find a rhythm that works for you and stick with it!
How can I read Zhuan Falun?
Answer: To read Zhuan Falun, you can: 
– Download it for free online
– Read the English version of Zhuan Falun
– Listen to audio recordings of the Chinese version
– Purchase it from a bookstore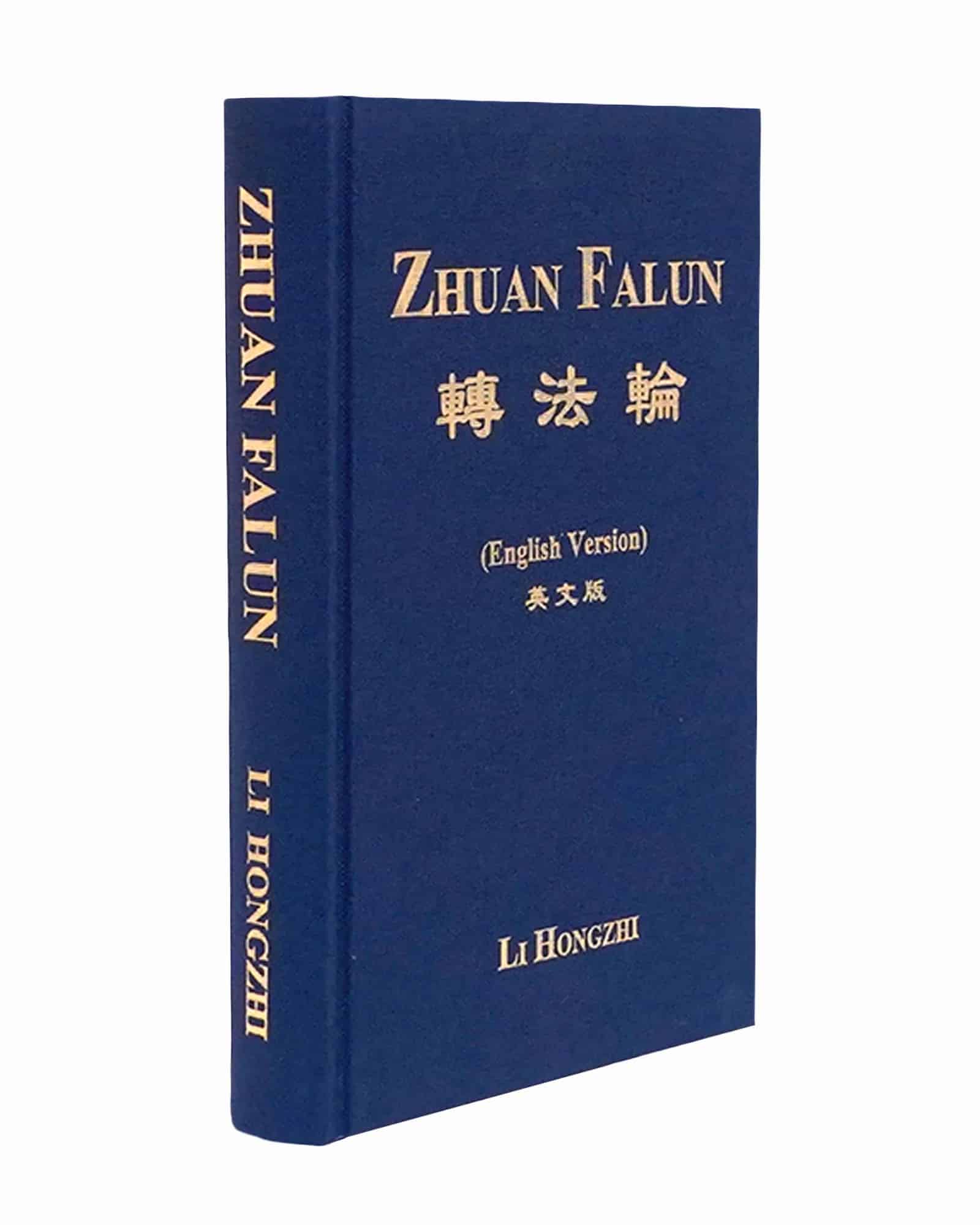 This post is also available in:
Tiếng Việt (Vietnamese)